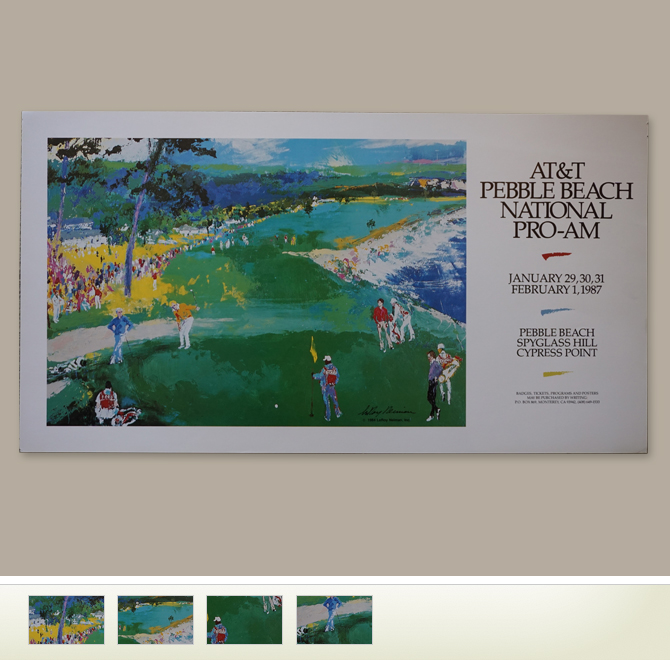 1987 AT&T Pebble Beach National Pro-Am Poster
This unframed AT&T Pebble Beach National Pro-Am poster features the 18th hole at Pebble Beach by LeRoy Neiman. This image is his second of this world famous golf course and tournament. It marks the first time he has consecutively returned to paint both a tournament and a course on which it is played. In addition to capturing the natural beauty and panoramic views of Pebble Beach, Neiman has also vividly depicted the various celebrity players participating in the tournament. Those who are putting out are scattered about the green with their caddies. On the far left is former President Gerald Ford in blue leaning on the club. To the right is Jack Nicklaus, who is in the process of putting. On the extreme left is Bob Hope, resplendent in red knickers and yellow sweater. And to his right is the artist, clad in a white jumpsuit, engrossed in the tournament and his sketching. On the right side is Tom Watson in red and actor Clint Eastwood in blue. The players are all situated mid-way along the fairway between the tee and the green. Also depicted is a portion of the colorful gallery and the extended ribbon of spectators which can be seen along the edge of the fairway.
LeRoy Neiman (1921 - 2012), was an American artist known for his brilliantly colored, expressionist paintings and screen prints of athletes, musicians, and sporting events. Neiman worked in oil, enamel, watercolor, pencil drawings, pastels, serigraphy and some lithographs and etching. Neiman is listed in Art Collector's Almanac, Who's Who in the East, Who's Who in American Art, Who's Who in America, Who's Who in the World. He was a member of the Chicago Society of Artists. His works have been displayed in museums, sold at auctions, and displayed in galleries and online distributors. He is considered by many to be the first major sports artist in the world, challenged only in his later years by a new generation of artists like Stephen Holland and Richard T. Slone. His work is in the permanent collection of the Smithsonian, the Whitney Museum, the Brooklyn Museum, the Museum of Fine Arts in Boston, the State Hermitage Museum in Russia, Wadham College at Oxford and in museums and art galleries the world over, as well as in private and corporate collections.
Unframed Dimensions: 13" x 24"
Item: CG149