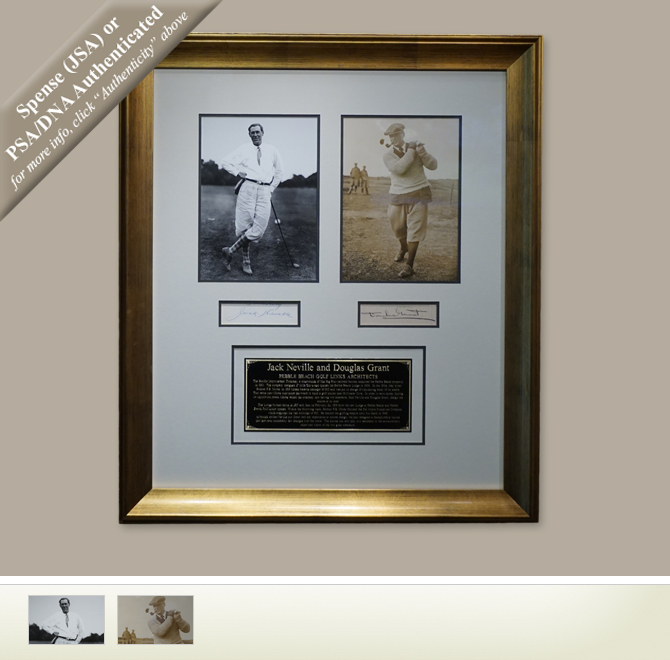 Pebble Beach Architects - Neville & Grant
Pebble Beach Golf Links Architects
The Pacific Improvement Company, a consortium of The Big Four railroad barons, acquired the Pebble Beach property in 1880. The company designed 17 Mile Drive and opened the Pebble Beach Lodge in 1909. In the 1910's they hired Samuel F.B. Morse. In 1916 Morse became manager of PIC and was put in charge of liquidating many of its assets. That same year Morse convinced the board to build a golf course near Stillwater Cove. In order to save money during its liquidation phase, Morse talked the company into having two amateurs, Jack Neville and Douglas Grant design the course at no cost.
The Lodge burned down in 1917 and then on Feb. 22, 1919 both the new Lodge at Pebble Beach and Pebble Beach Golf Links opened. Within the following week Samuel F.B. Morse founded the Del Monte Properties Company which acquired the vast holdings of PIC. He headed the golfing empire until his death in 1969.
Although neither Neville or Grant had any experience at course design, the pair designed a championship course that has seen remarkably few changes over the years. The course you now play is a testament to the extraordinary talent of the two great amateurs.
This handsome historical piece contains a photo of both Neville and Grant as well as an autograph from each and an engraved plate.
Framed Dimensions: 20" x 23"
Golf Links To The Past is proud to guarantee the authenticity of every autograph we sell. In addition, we provide appropriate documentation from official licensees who have commissioned private signings or we employ the services of the two leading independent autograph authenticating companies — James Spence Authentication (JSA) or PSA/DNA.
Item: ASD1534