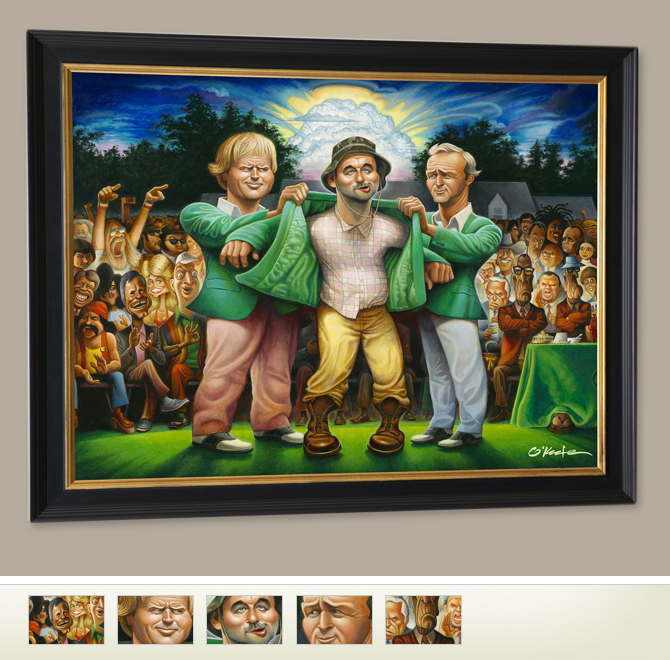 O'Keefe, David - "The Green Jacket"
Artist David O'Keefe created this homage to honor Carl Spackler's dream of winning The Masters. Carl Spackler was of course the unforgettable assistant greenskeeper played by Bill Murray, in the 1980 hit film
Caddyshack
.
In O'Keefe's imagination, a host of other pop-culture icons from 1980 witness the historic event and golf legends Arnold Palmer and Jack Nicklaus present Spackler with the famous green jacket. There are 26 total caricatures from movies, music, television, politics and sports and four anonymous characters in the work. The crowd of onlookers "kept getting bigger and bigger,'' O'Keefe said, "I wanted to make it a part of history - a snapshot of 1980. As in "Caddyshack,'' they are roughly divided into two sides: "the snobs'' on the right, who include Judge Elihu Smails (Ted Knight) and some stern-looking Masters officials, and "the slobs'' on the left, like Al Czervik (Rodney Dangerfield) and Richard "Cheech'' Marin from Cheech and Chong.
David O'Keefe was raised on Hollywood, sports and rock and roll music and has an acute awareness of the images and personalities that have colored the lives of his generation. Art is style. It often imitates life, but there are times when it goes down its own path with results that explode with wit and outrageous character. That is the experience you have when you explore the art of David O'Keefe. It's a blend of caricature with color delivered in a truly unique pop art manner which makes you pause with recognition of the subject before the depiction attacks your funny bone.
Available in 2 Sizes either Framed or Unframed.
Unframed: 16"x20" or 22"x28"
Framed Dimensions: 21"x24" or 27" x 33"
Item: OGJ