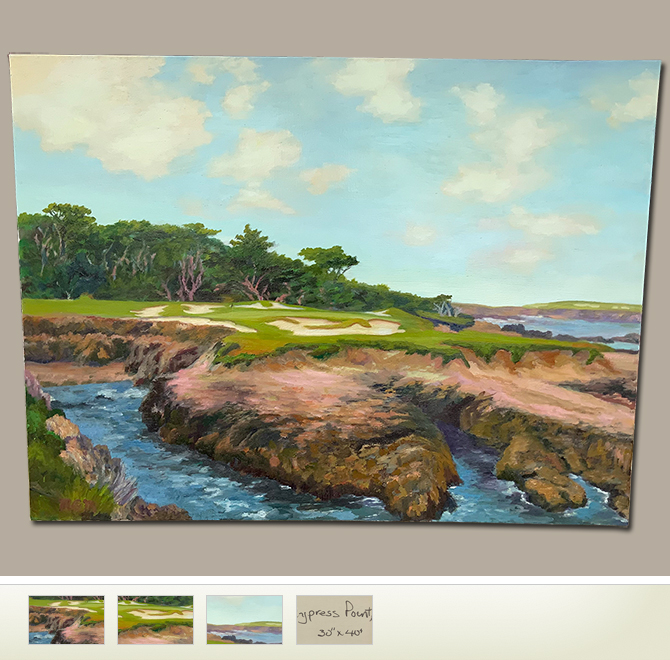 Miller, Michael - Cypress Point #15 Original Oil Painting
Original Oil Painting by Michael Miller's of Cypress Point 15th Hole.
Cypress Point's hole #15 is legendary in the golf world. The hole has a 233- yard carry over the Pacific Ocean and is surrounded by the distracting beauty of the striking coastal landscape.
Michael G. Miller, born 1946 in Bakersfield California, began painting in 1985. His formal training was undertaken at UCLA Extension and the Brentwood Art Center. Yet the most beneficial training, and that which would shape his stylistic approach has resulted from 15 years of "one on one" training with Mr. Gene Mako. This association fostered an intense interest, appreciation and eventually, a personal application of the style found in 19th century European and American art. This style is evident in his still life, landscape, cityscape, seascape and figure painting.
During this time Miller was also working full time as a golf professional in the Los Angeles area. He was the Head Golf Professional at the MountainGate CC from 1981 until departing in 1993 to become the Head Golf Professional at the Riviera CC in Pacific Palisades, California. This dual career merged into one in 1998 as Miller left the golf business and devoted himself to painting full time. Although his early training involved classic 19th century still life, golf landscapes became the natural synthesis of these two careers. Miller's golf experience, keen interest in golf course design and the intrinsic beauty of golf course subject matter has given rise to receiving special recognition in this genre. He has had "one man" museum shows at the World Golf Hall of Fame in St. Augustine Florida (2001) and at the USGA Museum, Golf House, Far Hills New Jersey (2002). Nonetheless, still life and landscape painting remain an equally important pursuit and account for at least half of Miller's time. These paintings have been exhibited by TABA, Inc. Potomac MD, Los Angeles Fine Art gallery, CA, S. Lehman, A. West Hollywood, CA, Galerie Gabrie, Pasadena CA, Gene Mako Gallery, Los Angeles, CA, Del Mar Gallery, Del Mar, CA, and Drudis-Biado Art Gallery, West Los Angeles, CA.
Publications featuring Mike Miller's art:: "Lost Links", 2002, by Dan Wexler; "The Art of Golf Design", 2001 Miller & Shackelford; "Missing Links", 2000, by Daniel Wexler; "The Golden Age of Gold Design", 1999; "Masters of the Links" 1998, Sleeping Bear Press; "The Captain", 1996, Sleeping Bear Press
Ready to frame to match your decor! Image size 30" x 40."
Item: MMCP15