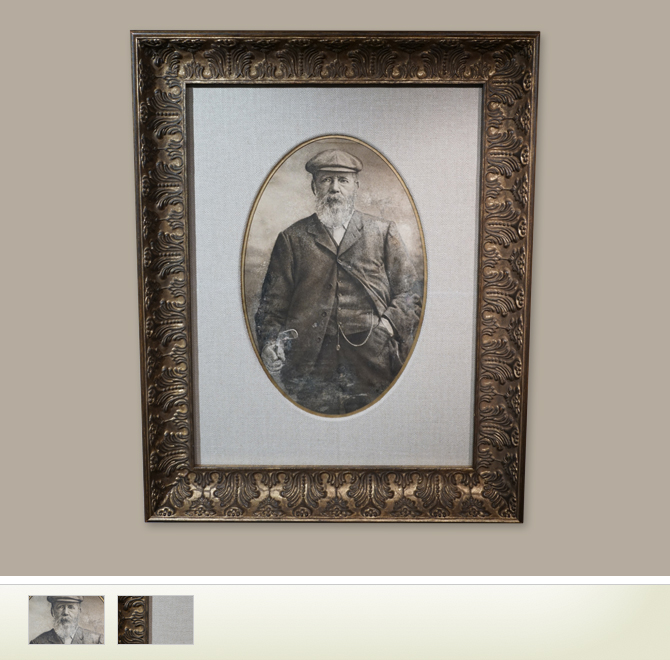 Brown, Michael - Old Tom Morris
An original watercolor, charcoal and pencil study of Old Tom Morris by James Michael Brown (1853-1947).
This previously unknown watercolor, charcoal and pencil study of Old Tom Morris is circa 1898. Recently discovered in a 'Closing Down Sale' at The North Worcestershire Golf Club (commonly called Northfield Golf Club) near Birmingham England which was a stunning James Braid designed course founded over 100 years ago. The painting is on stiff card. The last secretary stated the picture had been donated by a member some 70 or 80 years ago. Nearly fifty years ago the old wooden style pavilion had problems with its leaky old roof which after a large storm resulted in some wall hanging displays being damaged by water. This painting was trimmed from its original size due to water damage, a section from the bottom of the painting has removed Michael Brown's signature. The painting has been remounted and reframed. Fifty years ago the importance of having an original Michael Brown painting was rated as zero. Not until the last 25 years has he become an iconic person in artwork circles. This is a hugely historic piece of unlisted golf artwork. Michael Brown was the artist behind the successful Life Association Calendar, which have become so popular with golf collectors. The reverse has in pencil the following. 'Watercolour and Charcoal Study of Thos. Morris by Artist Michael J. Brown: After Fairweathers' Photographic Study. Presented to Northfield Golf Club by Mrs. W.E.B. Edwards'
Framed Dimensions: 21 x 16.5"
Item: ASA384