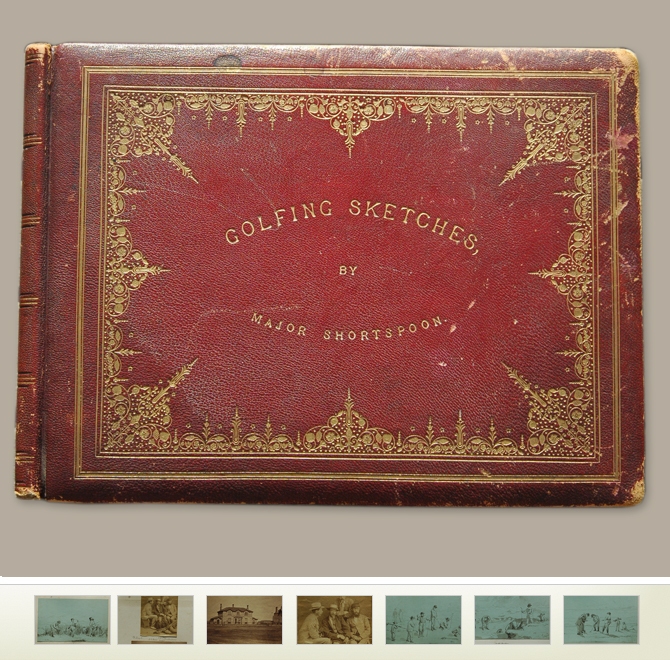 Hopkins, F.P. - Sketch Book
Francis Powell Hopkins (Major Shortspoon) created numerous small watercolors in his lifetime, many of which were of golfing scenes. They are greatly in demand, as his works documented people, places, events and the manner of play prior to the advent of photography.
Beautifully bound in red Moroccan leather with gilt lettering and trim and containing nine watercolors, this is an extremely important documentation as to the manner of golfing friendships and the awards given.
Hopkins produced two other similar books for presentations to clubs. These provided illustrations of the manner of play and the conditions prevalent. These books were divided later to provide individual paintings for the world of collectors of golf memorabilia.
This book was inscribed to Col. Kennard, Hopkin's host for a foursome's week of golf at Royal Liverpool. Within the foursome are two other retired military figures. The paintings, within the sketchbook has hand-written captions and records some of the antics and events of the week's play.
This may well be one of the most important discoveries relating to Hopkin's manner of personal life as a man and as a golfer. Once owned by Laurie Auchterlonie, four decade professional and golf historian at St Andrews, this book was acquired in 1986 from his wife, Bee Auchterlonie.
13 1/4" x 9 3/4"
Item: TGC-A017