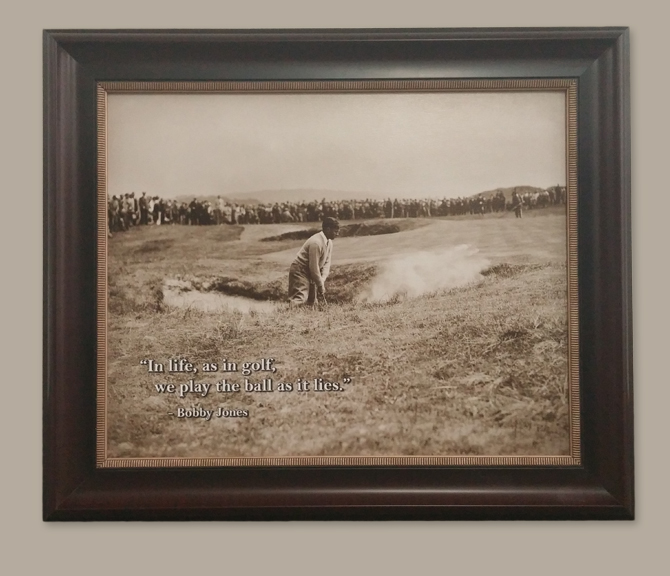 Jones, Bobby - Open Championship Hoylake 1930
Bobby Jones is seen hitting a sand bunker shot from the par-5 16th at Hoylake during that year's Open Championship — the second leg of Jones' memorable 1930 Grand Slam campaign. With Macdonald Smith and Leo Diegel just two strokes back of Jones with three holes to play, Jones pushed his second shot into a green side bunker, leaving an awkward third, forcing him to stand with one foot in the sand and the other on the bunker's slope. That is when Jones pulled an odd-shaped club from his bag, a concave wedge that Horton Smith had given him just prior his successful assault on golf's Grand Slam. So out came the "sand wedge," a club patented in 1928 — just two years earlier, and for the first and only time in his storied career Jones hit a sand wedge. The shot, seen clearly in this framed canvas print, was blasted from the bunker to within four inches of the cup for the birdie that saved the win and the Grand Slam for the incomparable Bobby Jones.
Jones was diagnosed with syringomyelia in 1944, a rare and degenerative disease of the central nervous system. Jones would battle the disease for 23 years, first using a cane, then leg braces and finally in a wheelchair. During the final years of his life Jones could not even hold a pen. When Jones was asked about his crippling disease his response spoke volumes about the kind of man he was, "In life, as in golf, we all have to play the ball as it lies."
This framed canvas print measures 22" x 26"
Item: ACC420