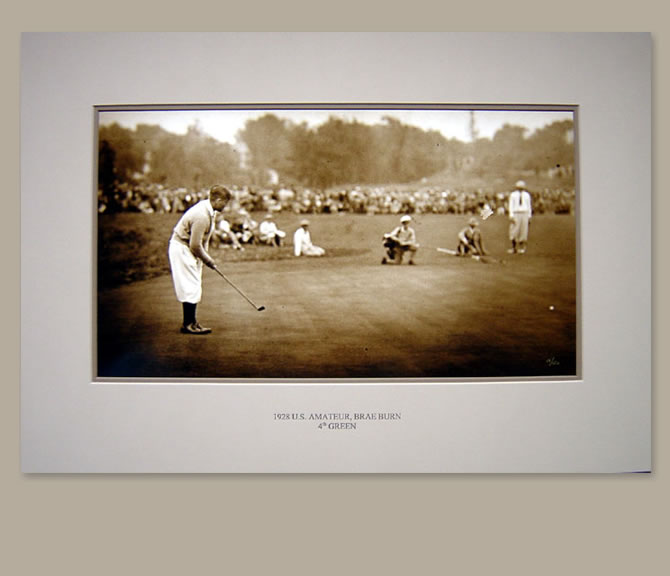 Jones, Bobby - Limited Edition Photograph - 1928 U.S. Amateur
Bobby Jones on the 4th green at Brae Burn C.C.
See all the 1928 U.S. Amateur images
This historic photograph was taken at the 1928 U.S. Amateur Championship held at Brae Burn Country Club in West Newton, Massachusetts, capturing Bobby Jones at the peak of his competitive brilliance. Seven Photographs are featured in this collectible series, each limited to 150.
Bobby Jones arrived at the Brae Burn Country Club in early September of 1928 as the prohibitive favorite to successfully defend his U.S. Amateur Championship title. Setting his sites on becoming just the second player ever to win the championship four times, Jones was the natural choice to claim the trophy and the heavy favorite based on his record alone.
Although a heavy favorite, another victory was anything but a given as Jones headlined one of the most impressive fields ever assembled for a national championship. George Von Elm was the number two seed, having dealt Jones his only U.S. Amateur loss of the previous four years in the final match at Baltusrol two years earlier. Francis Ouimet, the 1914 champion, was seeded number three and Jess Sweetster, the only American-born golfer to have won the British Amateur championship up to that time, rounded out the top four. There were a total of nine past champions in a field with an international flavor, featuring the top players from the United States, Canada and Great Britain.
In his first round match at Brae Burn, Jones handled J.W. Brown rather easily, 4 and 3. His second round opponent was Ray Gorton, the immensely popular Brae Burn member and the course record holder. Jones managed to defeat Gorton in extra holes and was never threatened again. In the third round he thrashed Englishman John Beck 14 and 13. In the semi-finals, he defeated Phillips Finlay, the long-hitting Harvard sophomore, by a score of 13 and 12. Jones advanced to the finals where he met T. Philip Perkins, the reigning British Amateur champion he had soundly beaten two weeks earlier in their Walker Cup match, 13 and 12. Jones won going away, 10 and 9, to claim his fourth U.S. Amateur championship.
At the end of the 1928 season, Bobby Jones had been national champion — winning either the U.S. Open or Amateur championship — for six years in a row. During those six years, Jones won four U.S. Amateurs, two U.S. Opens, two British Opens and tied for first in two other U.S. Opens he subsequently lost in 36-hole playoffs, each by just one stroke. Jones had forever established himself as one of the greatest golfers — and without a doubt, the greatest amateur — to have ever played the game.
This print is a fiber gelatin silver print which has been archivally washed and toned. Given the proper care, this museum-grade photograph will become a family heirloom to pass on to future generations.
Print Size: 17-½ x 12 in. Matted Size: 24-½ x 17 in.
Item: M1122M4G