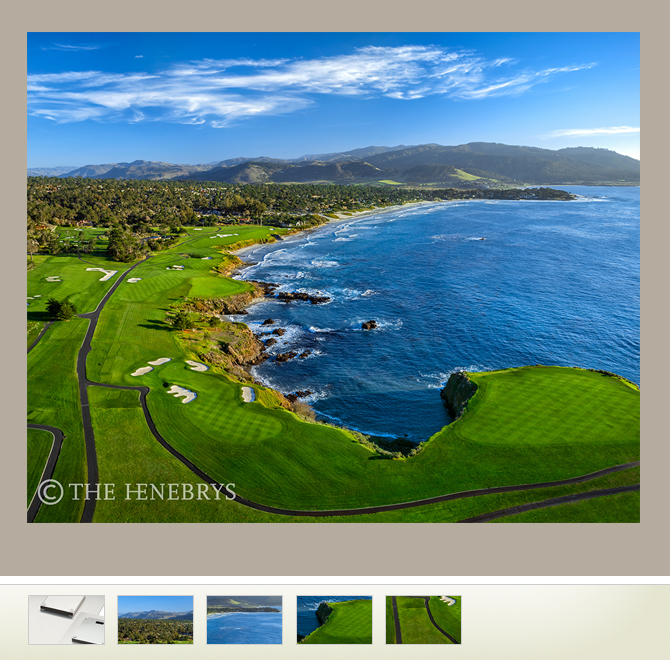 "The Turn" Pebble Beach #9 & #10 by The Henebrys
The 9th and 10th holes at Pebble Beach are pictured in this dramatic aerial photograph.
Premier golf photographers, John and Jeannine Henebry have been specializing in golf course photography for over 25 years. A brother-sister team, they have traveled the world photographing some of the world's best and most beautiful golf courses designed by many of golf's most notable course architects and designers.
John and Jeannine are meticulous about their work, often waiting hours or days for the perfect light and sun angle to showcase a golf hole's most subtle characteristics. To get their best pictures, they usually begin photographing courses just after sunrise or just before sunset. While their technique and perseverance enables them to have technically beautiful photographs, their true talent lies in capturing the essence of golf design. Using high end Medium Format digital cameras at a 100 megapixels, gives them a truly distinctive quality to their images, because there's no mistaking a Henebry photograph.
Price includes Shipping via UPS Ground Within the 48 States. For Expedited or International Shipping Please Call Us at 800.449.4097.
The aluminum print, featuring a float mount design, means your Henebry image arrives ready to hang and is offered in a variety of sizes. Please allow 2 weeks for delivery.
Pebble Beach Golf Links® and The Lone Cypress™ their courses and individual hole designs are trademark, service mark and trade dress of Pebble Beach company. Used under License.
All images on this page are copyrighted ©The Henebrys and may not be copied, reproduced or electronically stored without the express written consent of The Henebrys.
Item: JHTurn