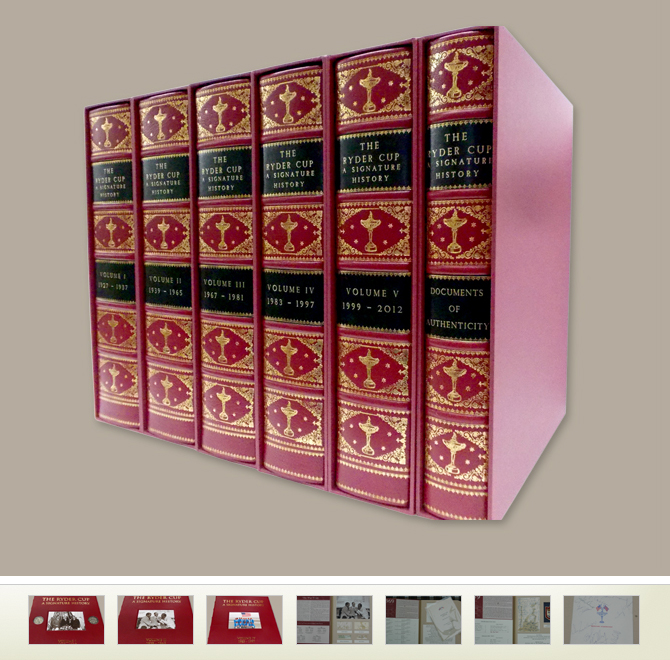 The Ryder Cup: A Signature History
What makes this historic, one-of-a-kind collection so unique is it's not a book about Ryder Cup memorabilia -- these volumes house the actual memorabilia!
Almost three years in the making, this lavishly-bound, six-volume collection contains the autographs of the 320 competitors, artifacts, photographs and accounts of each of the 39 Ryder Cups (1927 - 2012).
Along with the autographs - some of the earlier, lesser-known British players such as John Panton were hardest to find - is a 1929 "Bon Voyage" program for the American team which contains a page devoted to each player and each player signed his page. Horton Smith signed the program more than once and other "dignitaries" present like Grantland Rice also signed it. This program is in a mylar sleeve in a page and can be pulled out to view and enjoy. Also included are some original Ryder Cup blazer patches, and a copy of a speech (with handwritten notes) Samuel Ryder gave at the conclusion of the 1931 matches. There are also autographs of all the Americans who played in the Ryder Cup like War Relief matches during WWII while the Ryder Cup was on hold.
While the Ryder Cup is an expensive extravaganza now, producing millions for organizers on both sides of the Atlantic, that wasn't always the case. Another item in the collection is a 1929 letter from the secretary of the British PGA who was trying to figure out a way to get his players' expenses covered for that year's competition -- in England!
Each volume's binding is fully handcrafted in stunning leather and all of the autographs are archivally housed. Each volume measures: 15 3/4" x 3 1/2" x 13 3/4".
More Images Are Available Upon Request
Golf Links to the Past is proud to guarantee the authenticity of every autograph we sell. We provide appropriate documentation from official licensees who have commissioned private signings, and we employ the services of the two leading independent autograph authenticating companies, James Spence Authentication (JSA) and/or PSA/DNA, to authenticate all other autographs.
"I often rely on the extensive autograph exemplar file of Golf Links to the Past. Without reservation, I would recommend their services." (James Spence) Every autograph is individually certified by either James Spence Authentication (JSA) or PSA/DNA.
Item: ASD699
Price: POR