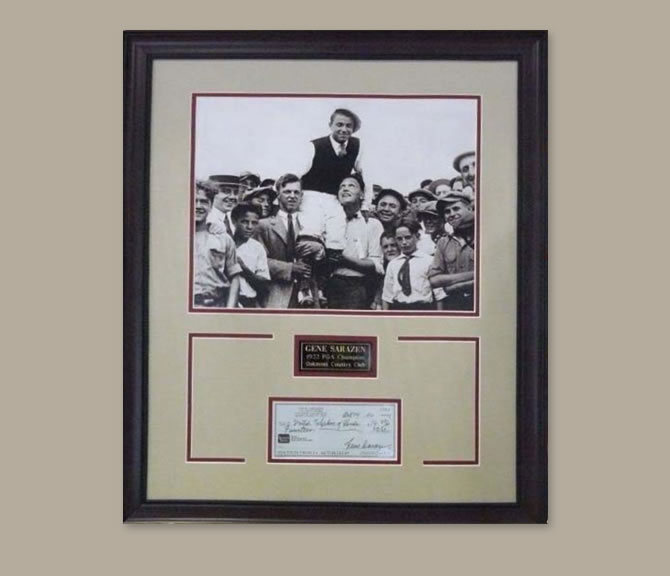 Sarazen, Gene Original Autographed Check
Gene Sarazen was the very essence of golf - from the sand wedge he invented in 1931 (he added a deep flange and bounce to a straight-faced niblick), the major championships he won and the elegant sportsmanship he displayed.
Sarazen was the first of only five players to win the career Grand Slam. And with one shot, he made the Masters perhaps the most famous tournament in the world.
"It was a spectacular shot, the one everybody talks about, but I take my greatest pride in having won the U.S. and British Opens in the same year, 1932," Sarazen once said.
The winner of 39 PGA Tournaments, Gene Sarazen was inducted into the World Golf Hall of Fame in 1974. He was the Associated Press Male Athlete of the Year in 1932, a charter member of the World Golf Hall of Fame (1974), and won the PGA Tour's first Lifetime Achievement Award in 1996.
He played on six U.S. Ryder Cup teams: 1927, 1929, 1931, 1933, 1935, and 1937.
"When you discuss or research the history of golf, the name Gene Sarazen is unavoidable," Jack Nicklaus said. "He was the cornerstone of the game we all enjoy today."
This moment in golf history is presented with an original signed check from Mr. Sarazen's personal bank account. Only a limited number of these one-of-kind pieces will be created and due to their unique nature, no two checks will be the same. Don't delay-order yours today!
Framed Size: 18" x 23"
Item: ASC115