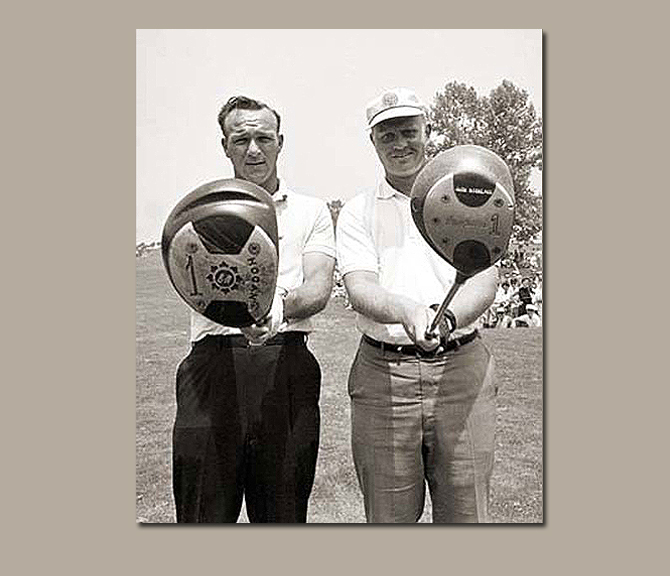 Nicklaus & Palmer 1962 US Open
Coming into the 1962 U.S. Open at Oakmont, there was no doubt which player was the fan favorite. Arnold Palmer had won his third Masters the previous April and had notched 30 tournament titles over the previous seven years. In 1953, he was a mere 23-year-old amateur when he competed at Oakmont, but now he was the charismatic, go-for-broke swashbuckler. Palmer's connection to the masses was remarkable. And the Open being played in his backyard created even more appeal. He was a western Pennsylvania native and Oakmont was this region's signature championship layout.
Jack Nicklaus was the anti-Palmer. Some people referred to him as "Fat Jack" because of the 22-year-old's physique. But he arrived at his first Open as a professional with plenty of fire. The former Ohio State University All-American had won the 1959 and '61 U.S. Amateur titles, and in between, he nearly took the 1960 U.S. Open, falling two strokes short of Palmer — although as play began at the 62 Open Nicklaus was still searching for his first victory as a pro.
Paired together in the first two rounds — the two legends traded body blows with Nicklaus staying close to the leader Palmer. During the final round Nicklaus found a way to pull even with the highly-favored Palmer — forcing an 18-hole playoff. In the playoff, Palmer bogeyed the opening hole to Nicklaus' par, a lead the Columbus, Ohio, native would never relinquish. Palmer gave the fans hope with short birdies at 11 (7 feet) and 12 (5 feet) to get within a stroke, but his three-putts damaged him — finishing the championship with 11 three-putt greens as compared to just one for Nicklaus, who shot an even-par 71 to Palmer's playoff score of 74. Palmer finished 1962 with eight victories and two major titles (Masters and British Open). But Nicklaus would go on to win 17 more majors, including four U.S. Opens to tie the mark held by Willie Anderson, Ben Hogan and Bobby Jones.
This 11" x 14" unframed historic photograph has a sepia tone.
Item: PNCP