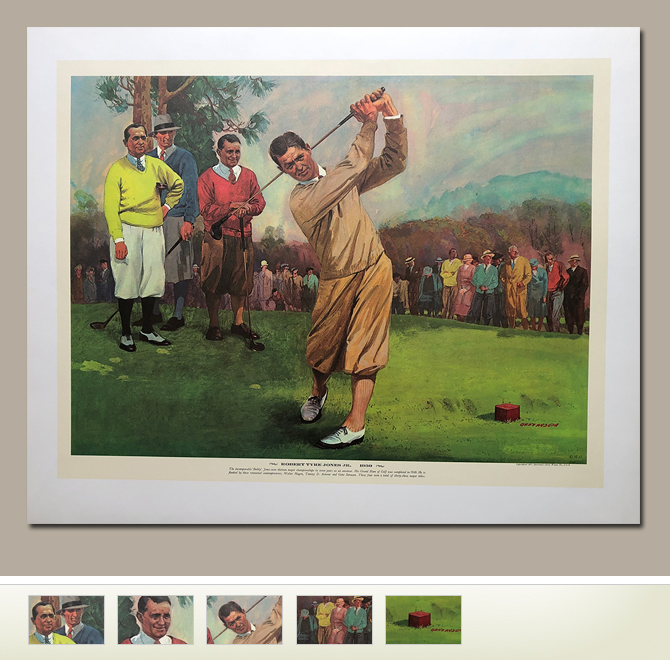 Gustavson, Lealand - Robert Tyre Jones Jr. Print
Robert Tyre Jones Jr. 1930
The incomparable "Bobby" Jones won thirteen major championships in seven years as an amateur. His Grand Slam of Golf was completed in 1930. He is flanked by three renowned contemporaries: Walter Hagen, Tommy D. Armour and Gene Sarazen. These four won a total of thirty-three major titles.
Unframed Golf Print:25 1/2" x 21"
Lealand R. Gustavson (1894-1966) was born in the Swedish community of Moline, Illinois. He studied nights for several years at the Chicago Art Institute while working in printing houses, advertising agencies and art services. After moving East, he resumed night classes, studying under Walter Biggs and Harvey Dunn.
Although he illustrated for The Saturday Evening Post, Collier's, McCall's, and many other periodicals, Gustavson was one of the mainstays of Blue Book magazine for many years and in his illustrations for the blood and thunder stories managed to "kill a staggering number of people in all the diabolical ways an author can dream up…"
Along with his interest in art, he was an ardent sportsman. For several years, he played tournament badminton throughout the East, holding a national championship title and several New England titles. He was equally interested in golf, both as a player and in illustrating the fine points of the game for books and magazine articles.
He exhibited widely and won many awards; he taught at the Chicago Art Institute and Ray Commercial Art School in Chicago. Gustavson was a member of the Salmagundi Club, the American Watercolor Society, and the Academic Artists Association.
Item: CG183