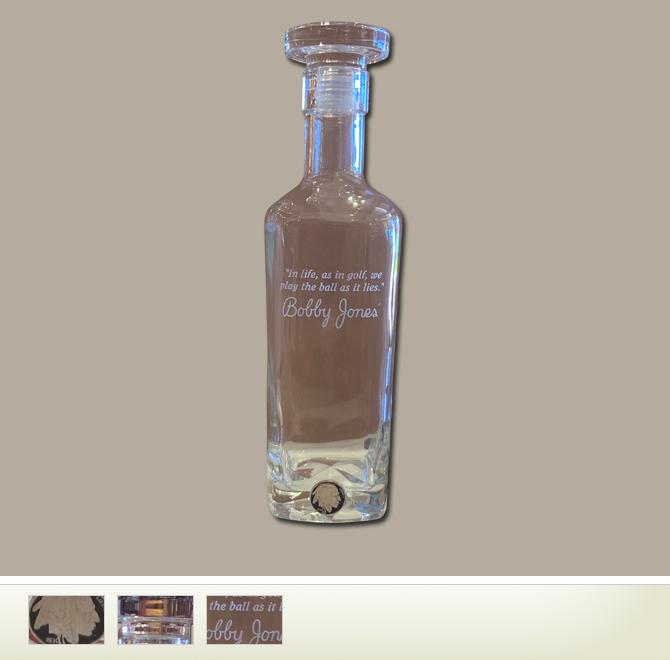 1930 Bobby Jones Decanter
Regular Price $200
TODAY ONLY
A $50 Savings!
When Bobby Jones won The Open Championship, the U.S. Open, the U.S. Amateur, and the Amateur Championship in 1930, the press struggled with what to call this achievement that no one thought possible. O.B. Keeler used a bridge term, "The Grand Slam." According to George Trevor of the New York Sun, Jones "stormed the impregnable quadrilateral of golf." Keeler later wrote, "This victory, the fourth major title in the same season and in the space of four months, had now and for all time entrenched Bobby Jones safely within the 'Impregnable Quadrilateral of Golf,' that granite fortress that he alone could take by escalade, and that others may attack in vain, forever."
Jones was diagnosed with syringomyelia in 1944, a rare and degenerative disease of the central nervous system. Jones would battle the disease for 23 years, first using a cane, then leg braces and finally in a wheelchair. During the final years of his life Jones could not even hold a pen. When Jones was asked about his crippling disease his response spoke volumes about the kind of man he was, "In life, as in golf, we all have to play the ball as it lies."
This handsome glass decanter features an original 1930, hand enameled, buffalo headed nickel commemorating Bobby Jones' 1930 Impregnable Quadrilateral. Jones' famous quote has been etched on the front of the decanter.
11" x 3" x 3"
Item: 1930BJDec