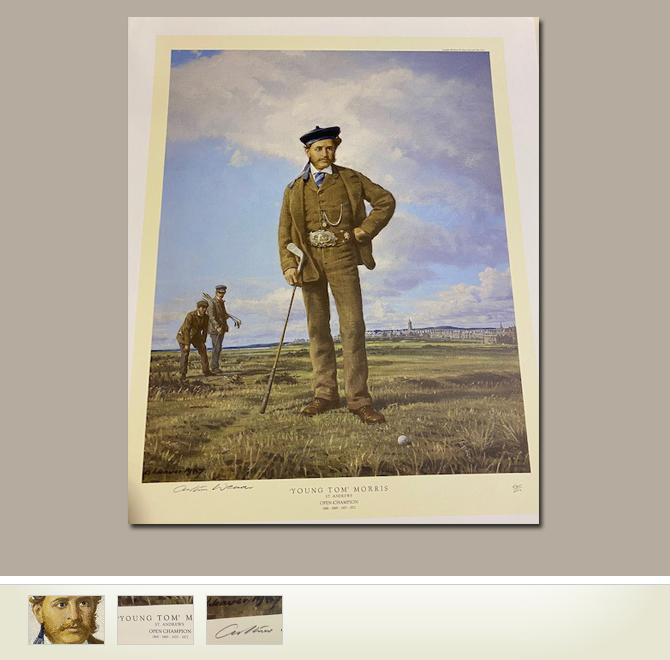 Weaver, Arthur - Young Tom Morris Signed Print
Thomas Morris (20 April 1851 – 25 December 1875), known as Young Tom Morris and also Tommy Morris, was a Scottish professional golfer. He is considered one of the pioneers of professional golf, and was the first young prodigy in golf history. He won four consecutive titles in the Open Championship, an unmatched feat, and did this by the age of 21.
Artist Arthur Weaver (1918-2008) was born in London in 1918 and educated at the Hornsey School of Art (1934-1938). Upon his release from the National Service in 1947 he moved to Wales and took up teaching art at Cardiff School of Art. Widely accepted as the leading contemporary golf artist, the combination of exceptional figure study, together with the combination of a skill for landscape painting has resulted in a wide popularity. Since having painted his first golf scene of Royal Liverpool in 1956 he has become one of the most respected of contemporary golf artists and paved the way for many artists depicting golf throughout the world.
He has painted some of the finest golf courses in the world and his paintings hang in some of the leading golf collections including the USGA museum and St Andrews, as well as many clubs and private collections both sides of the Atlantic.
Limited to 650 prints, this unframed print has been signed by artist Arthur Weaver.
Unframed Print Size: 20"x25"
Item: A679