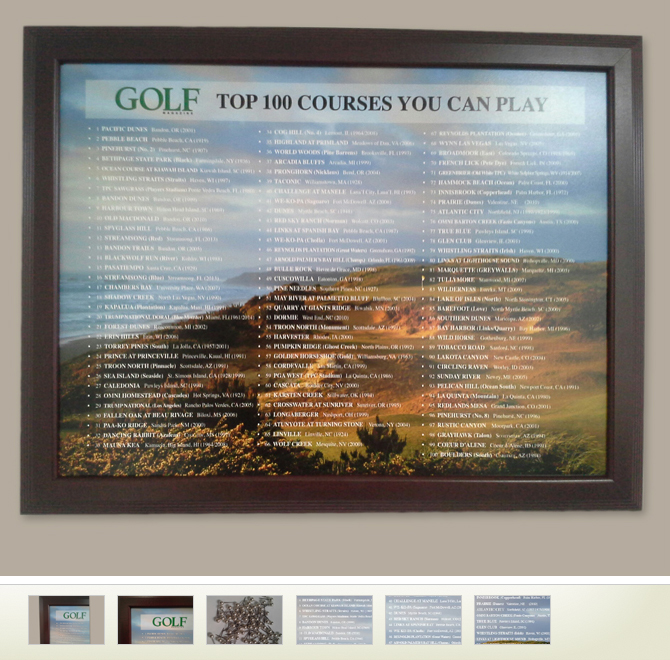 Top 100 Courses You Can Play Board
NOW SHIPPING THE 2014 LIST FEATURED IN GOLF MAGAZINE® OCT. 2014 ISSUE
The GOLF MAGAZINE® Top 100 Courses You Can Play board is the perfect gift for the avid golfer who loves to talk about playing top courses almost as much as playing them. The list is printed on matte photo paper and then dry mounted on a foam core board and features the name, location, and opening year of every course on the GOLF MAGAZINE® Top 100 Courses You Can Play list. The image shown on the board is Pacific Dunes #11 taken by renowned golf course photographer Larry Lambrecht. A supply of silver toned metal push pins which can be pushed into the board next to the name of each course, are included. Sleekly framed with a cherry finish and ready to hang! What better way to subtly inform your golf buddies about the great courses you've played and to keep track of where you want to play.
The GOLF MAGAZINE® Top 100 Courses lists are the most respected golf course rankings in the game. The esteemed rating panel consists of some of the most influential golfers, course architects, golf journalists, and industry executives around the world -- Nicklaus, Palmer , Sorenstam, Player, Dye, Doak, and Weiskopf. Ardent golfers cherish their experiences playing these classic and elite courses. A GOLF MAGAZINE® Top 100 Courses board is the perfect accessory for the golfer who has everything!
Framed Dimensions: 17.5" x 22 7/8"
Top 100 Courses You Can Play was first published in the September 2006 issue of GOLF MAGAZINE® ©2006 Time4 Media, Inc. GOLF MAGAZINE® is a registered trademark of Time4 Media, Inc. Used under license.
Item: FT100P