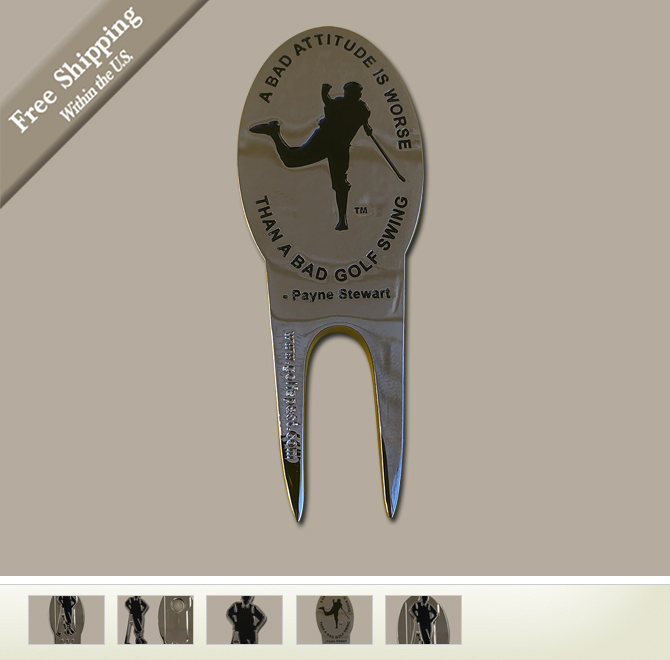 Payne Stewart Divot Repair Tool & Ball Marker
Free Shipping Via the USPS Within the 50 States!

For Expedited or International Shipping Costs Please Email Us at barb@golfspast.com
Payne Stewart (January 30, 1957 – October 25, 1999) was an American professional golfer who won eleven PGA Tour events, including three major championships in his career. Stewart gained his first major title at the 1989 PGA Championship. He won the 1991 U.S. Open after a playoff against Scott Simpson. At the 1999 U.S. Open held at Pinehurst Resort Course No. 2, Stewart captured his third major title after holing a 15-foot par putt on the final hole for a one stroke victory ahead of runner-up Phil Mickelson.
Four months later on Oct. 25, 1999, Stewart died in a plane crash. Stewart was 42 years old.
This officially licensed Payne Stewart divot repair tool features a removable ball marker in the shape of the silhouette of Payne Stewart standing with his club. The flip side of the repair tool has our favorite Payne Stewart quote which exemplifies how Payne lived life, "A Bad Attitude is Worse Than A Bad Golf Swing".
3" x 1" x 3/16", very lightweight at 1.2 oz and includes a protective drawstring pouch.
Item: PSDRT