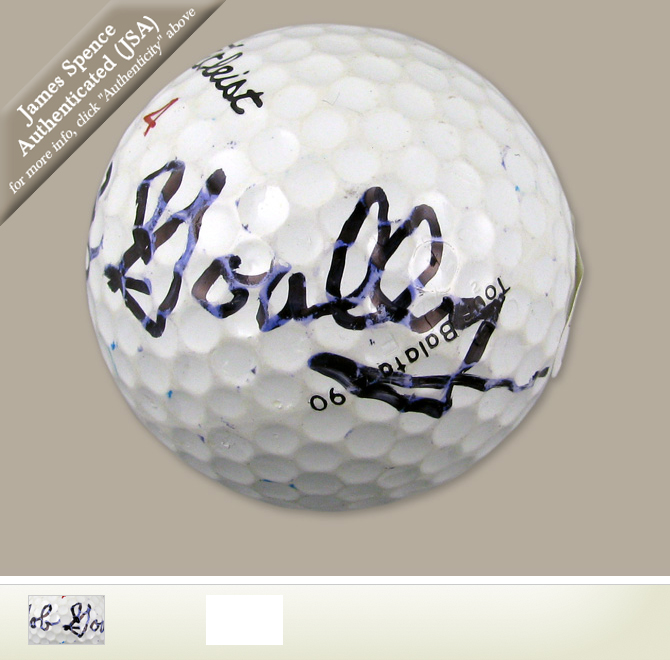 Goalby, Bob - Autographed Golf Ball
Born: March 14, 1929 in Belleville, IL.

The 1968 Masters is remembered more for an unfortunate scoring error rather than the play on the course or the eventual winner. Bob Goalby won the 1968 Masters, beating Roberto DeVicenzo by 1 stroke.
On Sunday, DeVicenzo shot what should have been a 65 to tie Goalby. He hurriedly signed his scorecard, not noticing the mistaken 4 that was listed at the 17th instead of the 3 he actually made. Tommy Aaron, DeVicenzo's scorekeeper, had mistakenly logged the 4 and because the card had been signed by Roberto, by rule, the score had to be honored.
This regrettable situation overshadowed wonderful play by both men. DeVicenzo's shot a brilliant 65 with a 31 on the front-nine, and with a 66 in the final round, Goalby certainly deserved to be Champion.
Golf Links To The Past is proud to guarantee the authenticity of every autograph we sell. In addition, we provide appropriate documentation from official licensees who have commissioned private signings or we employ the services of the two leading independent autograph authenticating companies — James Spence Authentication (JSA) and/or PSA/DNA.
This autographed golf ball has been authenticated by JSA.
Item: D02423