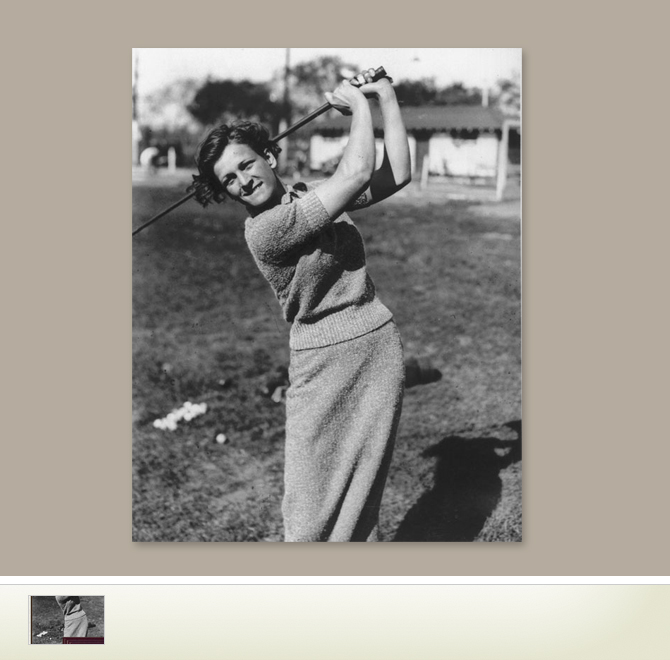 Didrickson, Babe
Born in Beaumont, Texas on June 26, 1911, Mildred Babe Didrikson was, like her six brothers and sisters, required by her carpenter father to exercise and participate in some sport from an early age. But Babe didn't need any encouragement. Disdaining dolls and toy dishes, Babe was busy in the back yard with a weight-lifting apparatus she had built with her mother's broomsticks and flatirons.
There was hardly a sport in which Babe Didrikson did not excel. She swam, she ran, she played baseball with the pros. She jumped; she was a whiz at basketball, handball, and lacrosse. She played tennis, boxed, bowled, fenced, skated, and excelled at shooting billiards, and cycling. Her greatest fame was as an Olympic champion and outstanding golfer who won eighty-two tournaments during her career. Babe was the sports phenomenon of the thirties and forties, astounding crowds on both sides of the Atlantic with her athletic performances.
Babe's contribution to women's sports is incalculable. She was the first women to challenge openly the leftover Victorian notions of what women could and should do athletically. With her breezy sense of humor and easygoing self-confidence, she won a special place in the public's heart; they flocked to see her play, especially on the golf course. She was instrumental in the establishment of the women's professional golf tour. Babe set the stage for the rest of the century and the girls and women who followed her onto the playing field.
This 11" x 14" black and white historic photograph has a sepia tone and is available unframed or framed in a cherry finish with double matting and a gray parchment background and engraved brass title plate.
Framed outside dimensions are 18" x 22".
Item: PBDZ