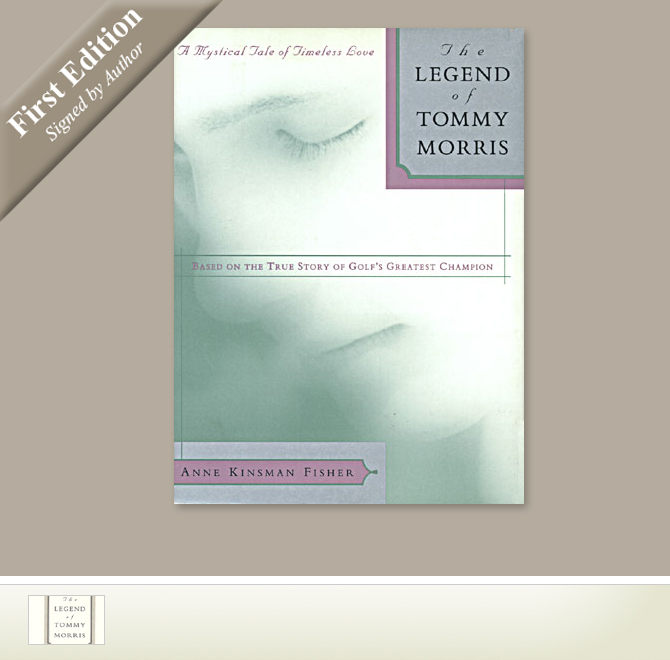 The Legend of Tommy Morris
1st Edition, Hardcover, Signed by Author — No Longer in Print
Synopsis:
In 1993, Anne Kinsman Fisher was grieving the loss of her 21 year-old brother. Haunted with regret over words left unsaid, she searched for a way to heal her wounded heart. By coincidence, she discovered a golf book that mentioned Tommy Morris, Jr., famous for his outstanding golfing achievements in 19th century Scotland.
According to the book, Tommy was also known for his passionate love for his wife, and had died of a broken heart. Touched by this passage, Anne did further research into Tommy's life. She was moved by the stories of his powerful spirit, and the message his life had seemed to convey. In an effort to heal her grief, she began to write her own version of Tommy's story. Slowly, Tommy came to life, and his message became clear: reach deeply into your heart to tap the reservoir of love that exists within each of us — and let that love guide your life. In this way, Tommy had set unprecedented records in golf, and impressed even the old-timers with his expression of love for his young wife.
As she wrote, Anne's own life became transformed by the power of Tommy's message. Her long-strained relationship with her father was healed, and she was reunited with other family members. She dedicated The Legend of Tommy Morris to her brother, Jeffrey. A writer and golf-enthusiast, Anne Kinsman Fisher lives in San Francisco, California. When she is not writing, Anne can often be found walking the golf course or caddying for her father.
From the Book's Jacket:
The Legend of Tommy Morris is the tale of a remarkable man who learned to tap the power of his love to accomplish the seemingly impossible
Born in St Andrews, Scotland in 1851, Tommy became a champion golfer at an early age an set may golf records that still stand today. In the autumn of 1875, his life stretched golden and promising before him. But tragedy hit when his young wife fell ill and died during childbirth. Three months later, on Christmas Eve, Tommy laid down in perfect health and died to be with her once again.
Can love transcend the boundaries of death? Was it the power of Tommy's love that enabled him to fulfill his destiny and achieve unprecedented success in golf
Historical records claim that Tommy died of a broken heart. But the spirit of Tommy's love did not die. Tommy returns to us now from the mystical land of Scotland to teach us, through the pages of his diary, the secrets of universal love and how we, too, can become a living expression of the spirit and power of love.
Reviews:
"The devotional love Tommy has for Jenny is profound and boundless. This is a love story you will not want to miss."
-Jack Canfield, co-author of Chicken Soup for the Soul
"I may be as convinced as anyone that the story of Young Tom Morris adds a lure that more people need to know — a tale well worth reading."
-Ben Crenshaw, 1984 and 1995 Masters Champion
"Anne Kinsman Fisher has written a remarkable book. Not since Jonathan Livingston Seagull and Illusions has such a tale of love and its eternal power been written. This story will touch your heart. Your soul will remember that no matter what the question, what the need, love is the only answer."
-Joan Gattuso, author of A Course in Love
Item: BTM