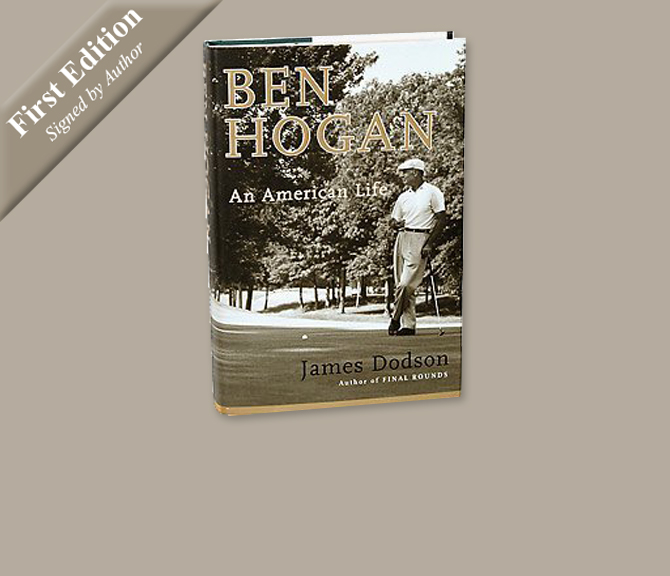 Hogan, Ben: An American Life
1st Edition Signed By Author James Dodson
Editorial Reviews
From Publishers Weekly
Ben Hogan is widely credited with ushering in the modern era of golf. His legendary practice sessions, intense perfectionism and iron determination helped turn a lazy gentleman's game into a high-stakes, competitive sport. Yet Hogan's unprecedented achievements on the golf course were often overshadowed by his fierce demeanor and public reticence, which fueled wild speculations about every aspect of his guarded life and gave birth to countless myths and misrepresentations. Dodson (Final Rounds) resurrects the flesh-and-blood man from the ashes of apocrypha, providing the most intimate and richly textured portrait of the famous golfer to date. Although reverential, Dodson doesn't shy away from the darker aspects of the Hogan story, exposing a vulnerable and pathologically obsessive man whose dogged resolve and incomparable success were matched only by his hidden shame and self-doubt.
Reared in Depression-era Texas, nine-year-old Hogan witnessed his father's suicide, a formative event that Dodson believes spurred Hogan's prodigious ambition and drive, as well as his compulsive tendencies and extreme need for privacy. All the mesmerizing stories-including Hogan's near-miraculous comeback and triumph at the 1950 U.S. Open after a debilitating car crash, and his record-setting 1953 season in which he won the Masters, U.S. Open and British Open-are related in lush and loving detail, without overlooking anecdotes about the era's other great players and colorful personalities, such as Sam Snead, Byron Nelson and Jimmy Demaret. As much about the game as about Hogan himself, Dodson's nuanced and engrossing biography adds new depth to a figure who has been excessively scrutinized but rarely understood.
Item: B1077