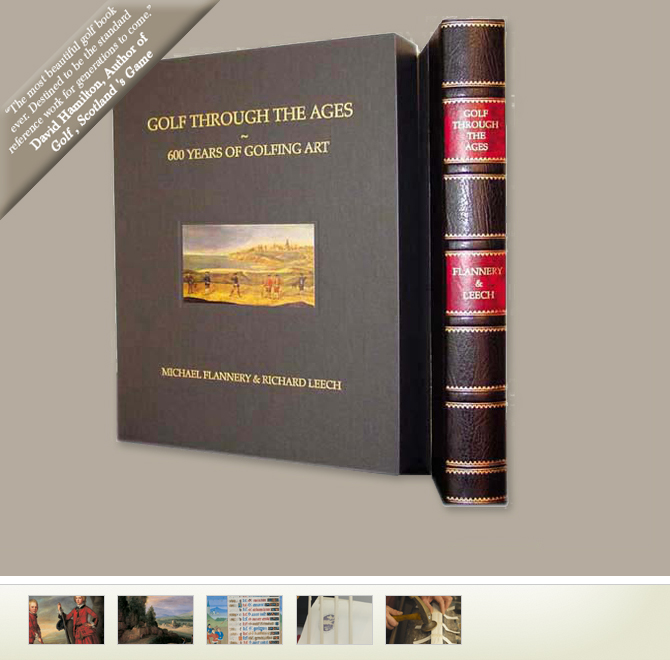 Golf Through the Ages - Royal Edition
Golf Through the Ages is the most exquisite book ever published on the game of golf. It's a one-of-a-kind treasury of golf art, spanning six centuries of history and representing the culmination of thirteen years of intensive scholarly research conducted across four continents. The end products is a lavishly bound 464-page visual and literary masterpiece, featuring an absolutely stunning collection of golf art--fifty percent of which has never been previously published!
Reviews:
"...quite magnificent, and I, more than most, appreciate the dedication to original research that is quiet evident in (this) presentation."
Alastair J. Johnston, co-author of The Chronicles of Golf: 1457 to 1857
"....no four-star golf library is complete without this definitive visual history of golf and its precursors."
Jonathan Lesser, Travel & Leisure Golf, (May/June 2004)
"I am overwhelmed by it's production! It is beautiful."
Peter Thomson, CBE, five-time winner of the Open Championship
"....perhaps the ultimate book for golf/art lovers, a one of a kind treasury of golf art and history."
Fiona Ford, Art and Antiques, London
Limited to 1999 copies, each is numbered in Arabic and signed by the authors. The book features a gorgeous quarter-goat skin leather binding as well as custom designed endpapers and flyleaves, set off by a distinctive hand-tooled, five band leather spine. The matching protective linen slipcase completes the presentation of an extraordinarily handsome book, one destined to become a legend in its time. .
Personalization is available. We can put your name (up to 25 characters), or corporate logo on the slipcase. Please contact us at 1-800-449-4097 for a quote on this service.
Size: 14" x 11.5"
Item: GTTA