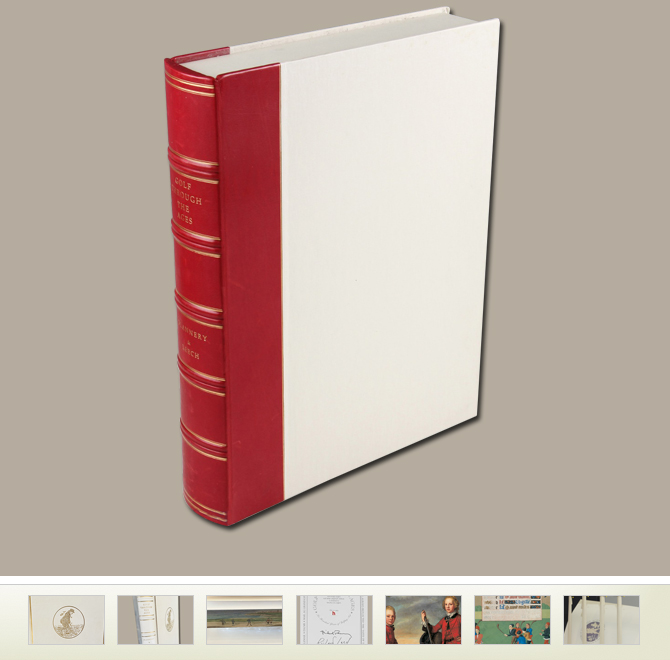 Golf Through the Ages - Red Letter Edition
The Red Letter Edition has never before been offered for public sale. This ultra-exclusive edition is limited to 26 copies, A-Z and were all sold prior to publication. Edition "H" is being offered for sale. This lavish book is fully bound in off-white natural calf with hand-tooled, raised bands in 23k gold, hand made marble endpapers, gilt edged pages and has been signed by both authors and Linda Donais Weir, the fore-edge artist. Housed in a custom made 1/4 red leather clamshell box with rounded spine. Both the book and the clamshell are hand tooled with 23k gold. Each copy of the Red Letter Edition incorporates an original fore-edge painting of Bobby Jones winning the Open Championship at St Andrews in 1927.
Golf Through the Ages is the most exquisite book ever published on the game of golf. It's a one-of-a-kind treasury of golf art, spanning six centuries of history and representing the culmination of thirteen years of intensive scholarly research conducted across four continents. The end products is a lavishly bound 464-page visual and literary masterpiece, featuring an absolutely stunning collection of golf art--fifty percent of which has never been previously published!
Reviews:
"...quite magnificent, and I, more than most, appreciate the dedication to original research that is quiet evident in (this) presentation."
Alastair J. Johnston, co-author of The Chronicles of Golf: 1457 to 1857
"....no four-star golf library is complete without this definitive visual history of golf and its precursors."
Jonathan Lesser, Travel & Leisure Golf, (May/June 2004)
"I am overwhelmed by it's production! It is beautiful."
Peter Thomson, CBE, five-time winner of the Open Championship
"....perhaps the ultimate book for golf/art lovers, a one of a kind treasury of golf art and history."
Fiona Ford, Art and Antiques, London
Clamshell: 16.5" x 3" x 13"
Book: 15.5" x 2" x 12"
Item: BGTTA