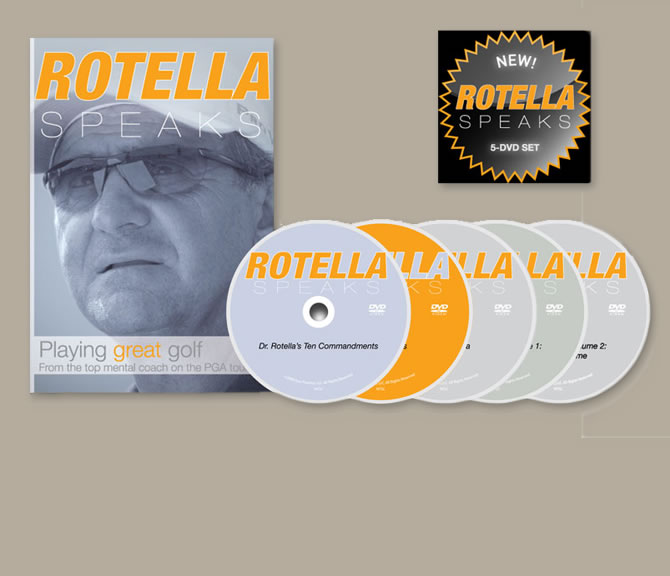 Rotella Speaks: 5 Disc DVD Set
Price Includes Shipping Via the USPS Within the 50 States.
For Expedited or International Shipping Costs Please Email Us at barb@golfspast.com
For the first time ever on video, Dr. Bob Rotella explores the mindset of a champion. From point-on conversations to actually going on the course with this legendary mental coach, this is an amazing compilation of material spanning Dr. Rotella's career. From the best-selling Practice Like A Pro® Private Lessons Series, this five-DVD set includes:

* Rotella's Rules
* Ask Dr. Rotella
* Dr. Rotella's Ten Commandments
* On The Course Volumes 1 & 2
Internationally celebrated for his work in the area of applied sports psychology, Dr. Robert Rotella is consistently recognized as the Top Sports Psychologist in the world. Dr. Rotella's golfers on the PGA Tour have won at least 25 of the 40 tournaments played for each of the last 15 years. Rotella's book, "Golf Is Not a Game of Perfect" is the best selling sports psychology book of all time and one of the three best selling golf books in history.
As a teacher, he has been selected as one of the top 10 golf teachers of the 20th Century and directed the leading graduate program in the country for 20 years, at the University of Virginia.
Dr. Rotella has worked as a consultant for personnel for the NBA, NFL, Major League Baseball, Nascar, PGA Tour, LPGA Tour, Senior Tour, U.S. Olympic Ski Team and the U.S. Olympic Equestrian Team.
Companies he has served as a corporate consultant include Merrill Lynch, General Electric, Ford, Tim Life, Coca Cola, Chrysler, Newsweek, Pepsi-Cola, Taco Bell and Pizza Hut.
Item: RSDVD