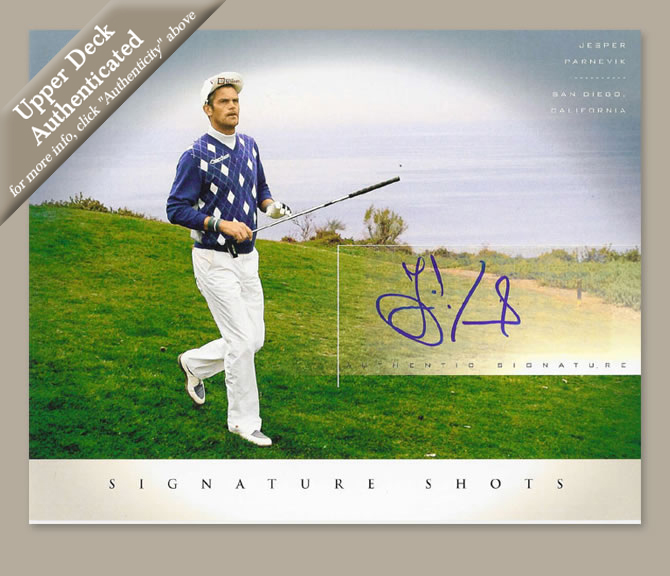 Parnevik, Jesper Autographed 8"x10" Trading Card
Jesper Parnevik
Born: March 7, 1965 in Stockholm, Sweden
Jesper's place in the pantheon of golf stars stems from both his playing achievements and his distinctive and eccentric taste in clothes and fashion.
Parnevik's on-course trademark was the upturned bill on his baseball cap. This became so much his trademark that, when he played on the European Ryder Cup team, he received a customized team cap with the Ryder Cup logo on the bottom of the bill instead of the front, so that it could be seen when he turned up the bill. He has since stopped wearing the flipped-bill hat, and now wears other types of eccentric hats. His flamboyant fashion sense, featuring disco-style purple trousers and other golf apparel designed by Johan Lindeberg, has been politely described as "eclectic," and he's been known to change outfits at the halfway stage of a round of tournament golf. As of 2006, one of his new trademark on-course fashion statements is a necktie worn under a vest. He is also famous for eating volcanic dust as a dietary supplement.
Parnevik turned professional in 1986 and scored four wins in his early years on the European Tour. Based in Florida, he joined the PGA Tour in the mid-90s, subsequently winning five events. His playing career also includes three Ryder Cup appearances - in 1997, 1999, and 2002. He has twice been a runner-up in The Open, in 1994 and 1997. His career best world ranking of seventh, which he attained on 14 May 2000, was the highest world ranking achieved by a Swedish golfer until Henrik Stenson reached the top five in February 2007.
A thoughtful historian in his free time, and a man with varied tastes, he was recently asked who he'd like to have dinner with, and quickly replied that it would have to be a choice between scientist Albert Einstein and singer Elvis Presley; when told he could only have one, he shot back, "O.K., Elvis Einstein."
In 2004 and 2005, the Upper Deck Company produced 8 x 10 autographed images on card stock. These pictures present themselves as glossy photographs. The Upper Deck Company commissioned private signings with these stars. The backs of each card expressly warrants the authenticity of the signature of the depicted golfer.
Item: D1674JP