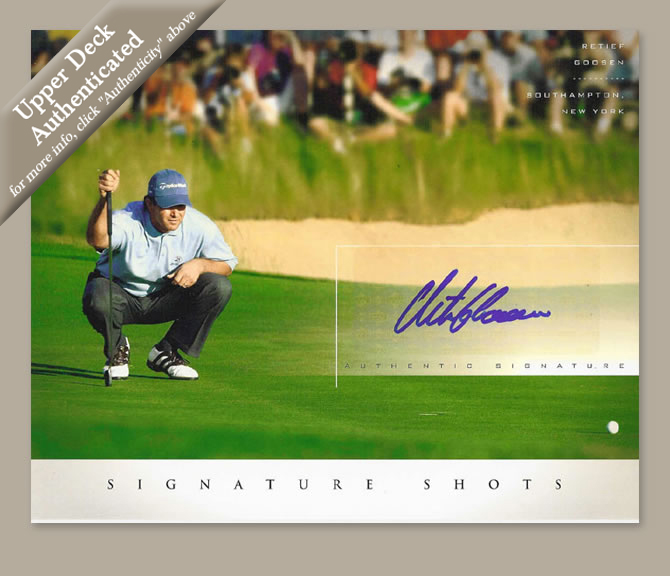 Goosen, Retief Autographed 8"x10" Trading Card
Regular Price $35
A Savings of 50%!
Retief Goosen
Born: February 3, 1969 in Polokwane, South Africa.
Goosen turned professional in 1990, following a win in the South African Amateur Championship of the same year. He won the European Tour's qualifying school in 1992 and enjoyed success on the European Tour between 1992-2000, but it wasn't until 2001 where he made his name in America with a U.S. Open win on a very tough Southern Hills Country Club course. Goosen nearly lost his chance at victory after three putting from 12 ft missing a two foot putt on the final green but managed to recover to make a play-off with the 1996 PGA Championship winner Mark Brooks. Goosen dominated the next day's 18-hole playoff winning by two shots. He finished 2001 with three wins, 11 top-tens and the European Tour Order of Merit and followed it up with another in 2002 he also became the first non European to win the Order of Merit. After his third win of the 2001 season, Goosen rose to a career-high 11th in the world.
Goosen's second major championship and second U.S. Open title came in 2004 at Shinnecock Hills Golf Club. The USGA had prepared extremely tough conditions which were later argued by players as "unfair." Goosen won the U.S. Open by two strokes over fan favorite Phil Mickelson. Goosen had 24 putts in the final round and 11 one-putts. 2004 was the start of the "Big Five Era" which is used in describing the era in golf where Tiger Woods, Vijay Singh, Ernie Els, Retief Goosen, and Phil Mickelson dominated the game of golf. The five switched up and down the top five positions in the World Golf Ranking; most notably Vijay Singh's derailing of Tiger Woods as the best golfer in the world. The five stayed, for the most part in the top five spots from 2004 till the start of 2007. Nine majors where won between them many fighting against each other head to head.
Retief has been a consistent player: he has won internationally every year since 1995, and also won a PGA Tour event every year from 2001 to 2005. Additionally, he has spent a long period of time in the top 5 of the Official World Golf Rankings, and in 2006 reached a career-best third place, but since late 2006 he has had a dip in performance.
In 2004 and 2005, the Upper Deck Company produced 8 x 10 autographed images on card stock. These pictures present themselves as glossy photographs. The Upper Deck Company commissioned private signings with these stars. The backs of each card expressly warrants the authenticity of the signature of the depicted golfer.
Item: D1675RG