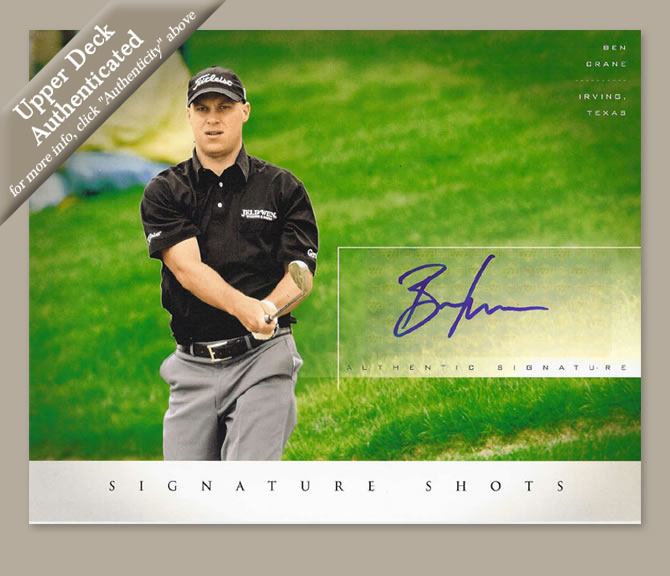 Crane, Ben Autographed 8"x10" Trading Card
Benjamin Crane
Born: March 6, 1976 in Portland, OR.
Ben was 5 years old when his grandfather taught him how to play golf, and he grew up playing at the nearby Portland Golf Club where Ben Hogan won the 1945 Portland Open. He attended Beaverton High School and went on to attend a Christian College in Texas. He later graduated from the University of Oregon and turned professional in 1999.
Crane won an event on the second tier Nationwide Tour in both 2000 and 2001. He won a PGA Tour card for 2002, and the following season won for the first time on the PGA Tour at the BellSouth Classic. He also had a win in 2005. In February 2006, just before he turned thirty, he was the highest ranked American golfer under that age in the Official World Golf Rankings.
He has said how he doesn't like to know whom he will be paired with, saying, "I looked up to a lot of these guys who I'm now playing with. So, I didn't want to have to go to sleep thinking about it."
He is also considered one of the slowest players in the tour. On at least two occasions his extremely slow progress through a course has become a media issue, including one in which a fellow tour player Rory Sabbatini was cited for unsportsmanlike conduct for playing out of turn, which led to a week-long diatribe by TV commentator/former player Paul Azinger.
Crane missed the majority of the 2007 season due to back problems, and played on the PGA Tour in 2008 on a major medical extension. He finished 64th on the money list to retain his card for 2009.
In 2004 and 2005, the Upper Deck Company produced 8 x 10 autographed images on card stock. These pictures present themselves as glossy photographs. The Upper Deck Company commissioned private signings with these stars. The backs of each card expressly warrants the authenticity of the signature of the depicted golfer.
Item: D1674BC