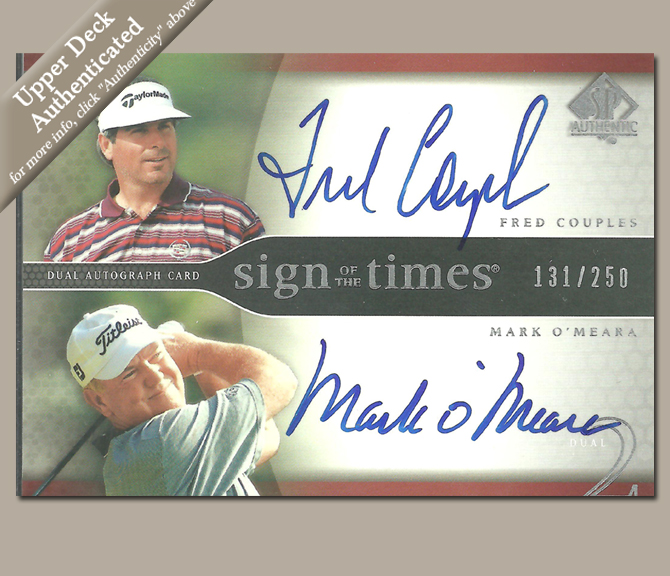 Couples, Fred & Mark O'Meara Autographed Trading Card
Fred Couples
Born: October 3, 1959 in Seattle, WA.

Card Size: 2 1/2" x 3 1/2"
The 1992 Masters was won by Fred Couples, arguably one of the most popular Masters champions ever. Couples played well all week, and as the final round made the turn, it became clear that this tournament would come down to two men, Fred Couples and Ray Floyd. So many Masters have been won or lost on "Amen Corner", the 3-hole stretch of 11, 12 and 13, none more amazingly than the 1992 Masters.
Lurking close to the front of the 12th green, Rae's Creek waits; a shot hit short is supposed to roll back into her embrace. Tempting fate, Couples hit a shot that rolled the wrong way. Somehow, some way, his ball rolled halfway down the bank and stopped, inexplicably clinging to the bank. As if by divine intervention, Couples saved his par, keeping hope alive. With this nod from the gods, Couples finished at 275, winner by 2 over Floyd.
Mark O'Meara
Born: January 13, 1957 in Goldsboro, NC.
Mark O'Meara birdied three of the final four holes, including the 17th and 18th holes to win the 1998 Masters. In typically dramatic Masters fashion, O'Meara rolled in a perfect 20-foot right-to-left birdie putt on the closing hole that gave him a final round of 67. O'Meara finished at 279, good enough to defeat Fred Couples and David Duval by a stroke.
O'Meara, a winner of 16 PGA Tour titles in an 18-year career, broke his streak of 56 straight major championships without a victory. This win came in his 15th try at the Augusta National; no one had ever played in that many Masters and then won the title. O'Meara would go on to win the 1998 Open Championship at Royal Birkdale to complete his finest year as a professional.
Golf Links To The Past is proud to guarantee the authenticity of every autograph we sell. In addition, we provide appropriate documentation from official licensees who have commissioned private signings or we employ the services of the two leading independent autograph authenticating companies
Item: SJ50CFCMM