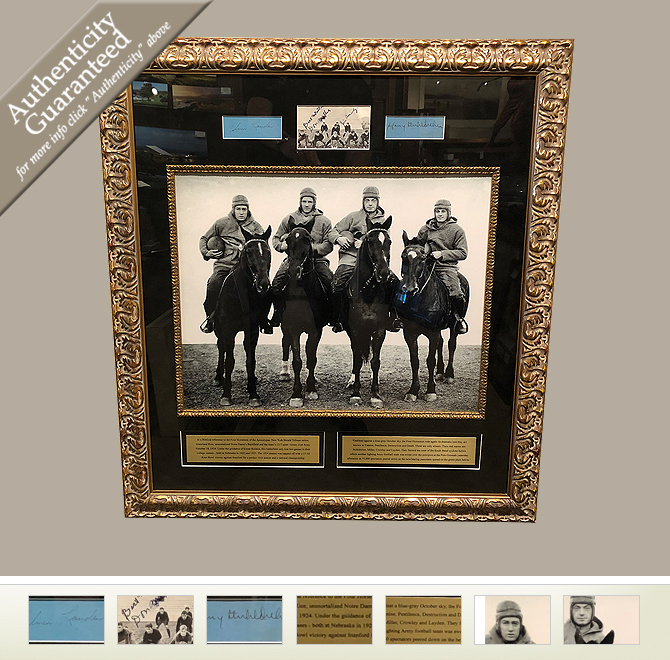 Notre Dame College Football - "The Four Horsemen"
There is no doubt that the most famous backfield in college football history is Notre Dame's Four Horsemen.
In a Biblical reference to the Four Horsemen of the Apocalypse, New York Herald Tribune writer, Grantland Rice, immortalized Notre Dame's Backfield and the team's 13-7 upset victory over Army, October 18, 1924. Under the guidance of Knute Rockne, this backfield only lost two games in their college careers - both at Nebraska in 1922 and 1923. The 1924 season was capped off with a 27-10 Rose Bowl victory against Stanford for a perfect 10-0 season and a national championship.
"Outlined against a blue-gray October sky, the Four Horseman rode again. In dramatic lore they are known as Famine, Pestilence, Destruction and Death. These are only aliases. Their real names are Stuhldreher, Miller, Crowley and Layden. They formed the crest of the South Bend cyclone before which another fighting Army football team was swept over the precipice at the Polo Grounds yesterday afternoon as 55,000 spectators peered down on the bewildering panorama spread on the green plain below."
This historic piece of history contains a photo of The Four Horseman - Harry Stuhldreher, Don Miller, Jim Crowley and Elmer Layden as well as an autograph from each of them.
Framed Dimensions: 31" x 28"
Golf Links to the Past is proud to guarantee the authenticity of every autograph we sell. We provide appropriate documentation from official licensees who have commissioned private signings, and we employ the services of the two leading independent autograph authenticating companies, James Spence Authentication (JSA) and/or PSA/DNA, to authenticate all other autographs.
"I often rely on the extensive autograph exemplar file of Golf Links to the Past. Without reservation, I would recommend their services." (James Spence)
Item: ASD1230