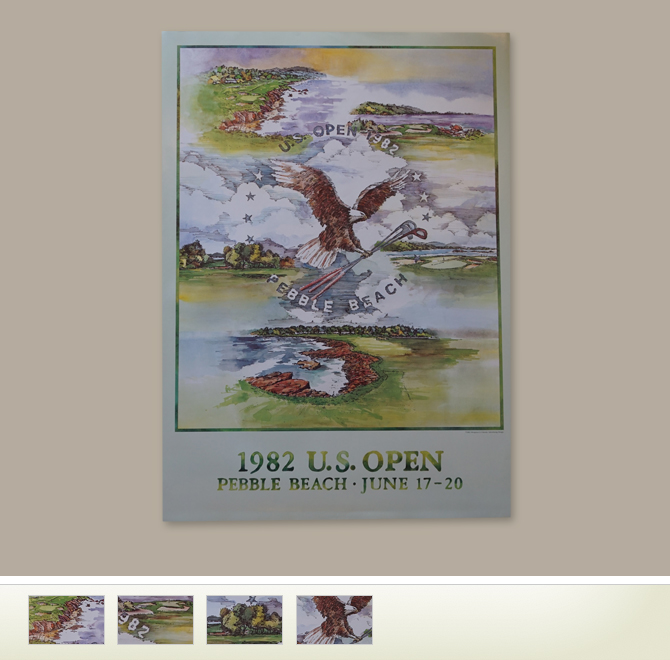 1982 U.S. Open Poster
With five major championships under his belt, Tom Watson entered the 1982 US Open championship as one of the clear-cut favorites. Just the second US Open to ever be played at Pebble Beach, and just like the first US Open in 1972, the tournament's 17th hole would also see one of the most memorable golf shots of all time.
Playing two groups ahead of Watson in the final round, Jack Nicklaus charged into a share of the lead with five consecutive birdies on holes 3 through 7. When Watson reached the par-3 17th hole the two were still tied, but with Nicklaus safely in the clubhouse at 4 under par 284. Watson hit his tee shot on 17 into the rough which had been grown very thick as per USGA Open playing conditions. Watson's chip was made all the more difficult because he was above the hole. He would have to strike the chip vigorously to get the clubhead through the rough, but such an aggressive attack would almost surely leave a long comeback putt for par. When Watson and his caddy Bruce Edwards were discussing the chip Edwards told Tom to get the ball close, Watson famously said, "Close, hell, I'm going to sink it." The chip bounded down the green, struck the pin, and landed in the cup. Watson bounded after it jubilantly. He would go on to birdie the tricky 18th hole for a two shot win.
This unframed poster from the 1982 US Open is 22" x 30 1/2"
Item: CG0091