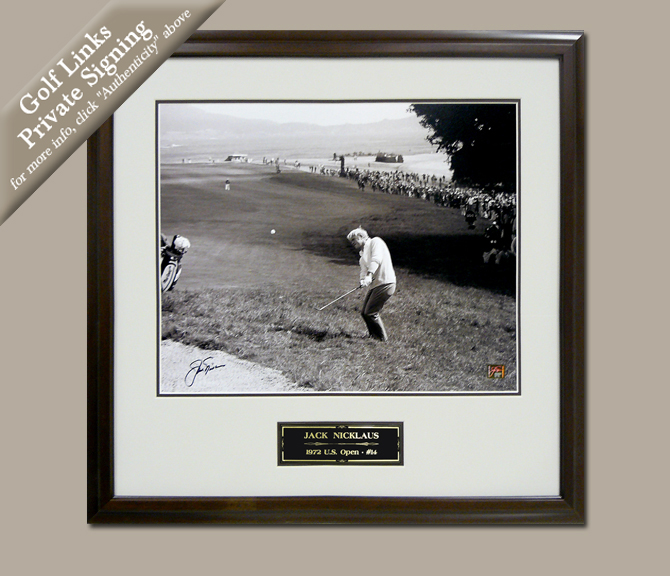 Nicklaus, Jack - '72 US Open Autographed Photo
Pebble Beach Golf Links hosted its first U.S. Open in 1972. Jack Nicklaus won by 3 strokes with a 2 over par 290. The U.S. Open was Nicklaus' 13th career major and tied him with Bobby Jones for career majors (although a different group of tournaments had been considered majors in Jones' time). This victory was also Nicklaus' 11th professional major tying him with Walter Hagen and making him the first player to win the U.S. Amateur and U.S. Open championships on the same golf course. Nicklaus won a total of seven tournaments during the year including the Masters, and was runner-up in another three.
Nicklaus is shown here lofting a soft pitch out of the rough to the 14th green before a big gallery during his march to victory in the '72 U.S. Open. The effectiveness of the shot, which stopped within five feet of the pin, compelled his playing partner, Lee Trevino, to tell him he should play the game left-handed to give his opponents a chance.
This 16"x20" photo has been boldly signed by Nicklaus.
Framed Dimensions: 28" x 27.5"
Golf Links to the Past is proud to guarantee the authenticity of every autograph we sell. We provide appropriate documentation from official licensees who have commissioned private signings, and we employ the services of the two leading independent autograph authenticating companies, James Spence Authentication (JSA) and/or PSA/DNA, to authenticate all other autographs.
"I often rely on the extensive autograph exemplar file of Golf Links to the Past. Without reservation, I would recommend their services." (James Spence).
Item: FPNSP
Price:

In Stock