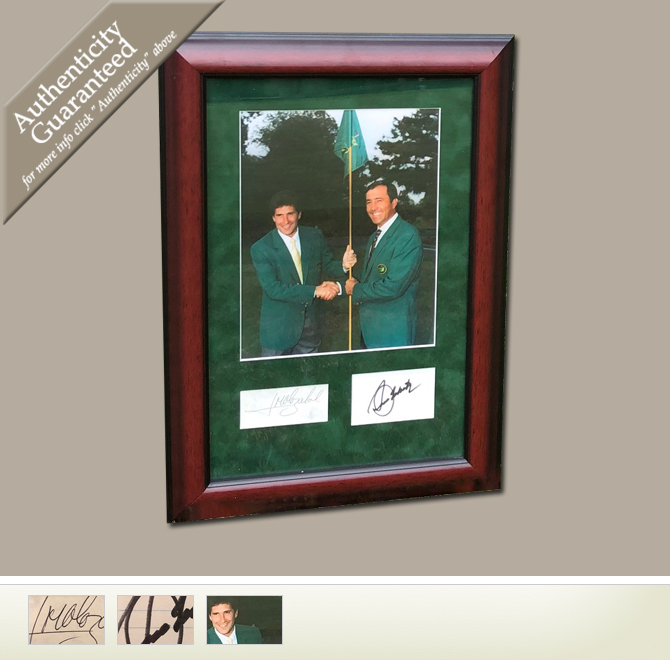 Olazábal, José María & Ballesteros, Seve - Masters Champions
They share a total of 4 Masters Championships between them as well as a shared nationality - both Seve & José María hailing from Spain.
Seve Ballesteros (April 9, 1957 - May 7, 2011) captured his Masters Championships in 1980 & 1983. Ballesteros won a record 50 European Tour titles. He won at least one European Tour title for 17 consecutive years between 1976 and 1992.
José María Olazábal won his first Masters title in 1994 and then again in 1999. In 2012 he captained Europe's Ryder Cup team to a narrow victory over the USA, which seemed improbable at the start of the final day's play when the Europeans trailed 10–6. They came back to win 14½–13½. Olazábal was very emotional with the win, saying in an interview that that was his number one happiest golf moment and happiest moment of his life. The win was inspired by his late friend Seve Ballesteros, to whom he dedicated the win.
This historic photo captures José María & Seve in their Green Masters Jackets and includes a strong autograph from each champion.
Framed Dimensions: 13.5" x 18.5"
Golf Links to the Past is proud to guarantee the authenticity of every autograph we sell. We provide appropriate documentation from official licensees who have commissioned private signings, and we employ the services of the two leading independent autograph authenticating companies, James Spence Authentication (JSA) and/or PSA/DNA, to authenticate all other autographs.
"I often rely on the extensive autograph exemplar file of Golf Links to the Past. Without reservation, I would recommend their services." (James Spence)
Item: MD1752