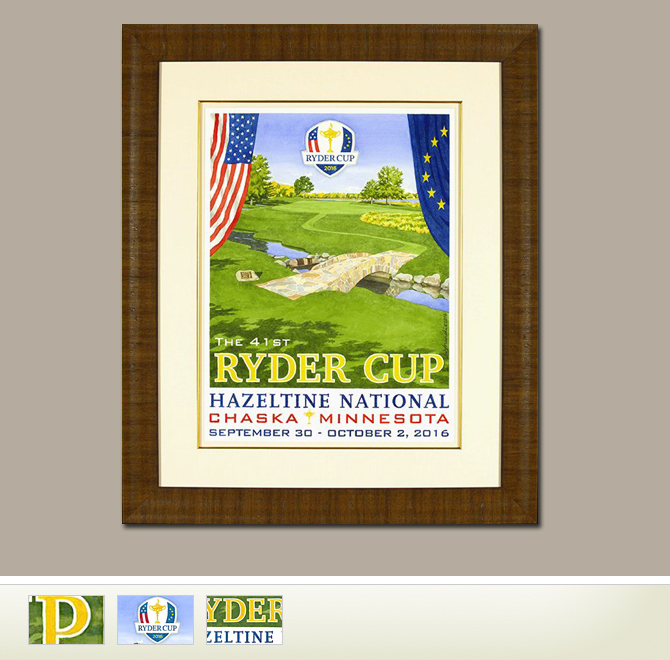 Wybranski, Lee - Original 2016 Ryder Cup Painting
Regular Price $20,000
TODAY ONLY
A $5,000 Savings!
The stage is set and the curtains are nearly up on the grandest event in golf. Lee Wybranski's first poster for the Ryder Cup shows Hazeltine's famous 7th hole, complete with replica of the Swilcan Bridge dedicated to the late Payne Stewart, universally regarded as a great Ryder Cup competitor and one of golf's finest examples of class and sportsmanship.
Lee Wybranski is one of the premier artists working in golf today. He has been commissioned to create drawings and paintings for many of the finest clubs and organizations in the game. These include many of the marquee clubs in the world including Cypress Point Club, Pine Valley Golf Club and The Old Course at St Andrews. In addition, Lee works annually for the governing bodies of the game creating classic, collectable work on behalf of The R&A, PGA of America and United States Golf Association.
His Majors posters hang in the homes of many Major Champions, as well as fine art collectors around the world.
He works primarily in watercolor and his work is known for interesting compositions and a keen attention to detail.
We are proud to offer Lee's original watercolor painting used to create the official 2016 Ryder Cup poster. The painting has been signed by the artist and is beautifully framed.
Framed Dimensions: 29 3/4" x 39 1/2"
Item: LW200