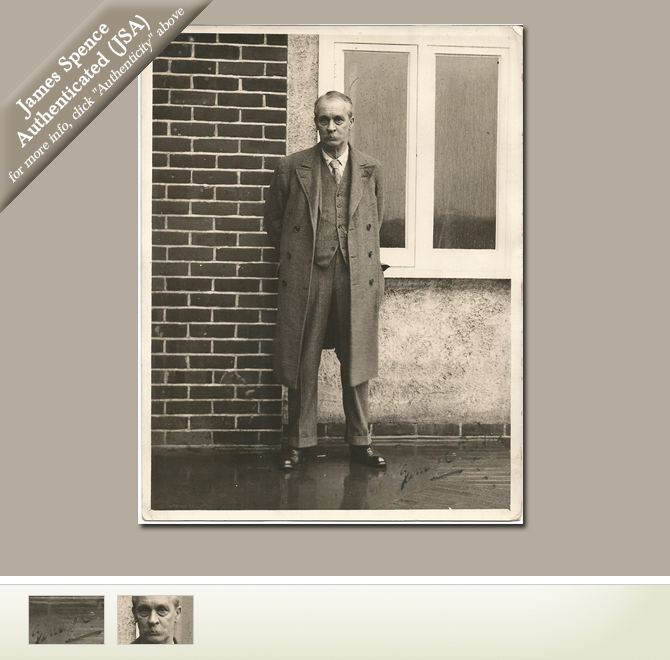 Ryder, Samuel - Signed Photograph
The first official Ryder Cup match was held in Worcester, MA., at the Worcester Country Club, in 1927. Samuel Ryder (24 March 1858 – 2 January 1936), an English businessman and avid golf enthusiast and promoter donated a gold cup and had agreed to pay £5 to each member of the winning team. . Ryder originated the idea of selling garden seeds in "penny packets" and built a very successful business on the concept. Since 1927, it has been held on a two-year cycle, apart from 1939 to 1945, when it was canceled due to World War II.
Ryder enjoyed cricket in his early life, but seems to have played little sport in adult life until he was 50 years old. After he had experienced a period of ill health in 1908, his friend Frank Wheeler, the preacher at Trinity Congregational Church, suggested that he take up golf as a way to get more fresh air. He became an enthusiastic amateur, quickly securing a single-figure handicap and joining Verulam Golf Club, where he served on the greens committee for 20 years. He made large donations to the club, and was appointed captain in 1911, 1926 and 1927. He was also captain of the Stratford-upon-Avon Golf Club in 1929 and 1930.
When Ryder took his family to Dorset for their annual summer holidays, he played golf at Came Down Golf Club. There he met the Whitcombe brothers—Ernest, Charles and Reg—and was impressed by their superb skill. He asked Ernest if they ever played in important tournaments like The Open Championship. Ernest answered "no" as he could not afford it, and went on to say, "The Americans come over here smartly dressed and backed by wealthy supporters; the Britisher has a poor chance compared to that". Ryder considered that something vital was required to rouse clubs to take a real interest and responsibility in encouraging young professionals of talent like the Whitcombe brothers.
This unframed, black and white original photograph has been signed by Samuel Ryder. Slight damage to several corners but doesn't impact the photograph or signature.
8.5" x 6.5" with about a 1/4" border
Item: D245