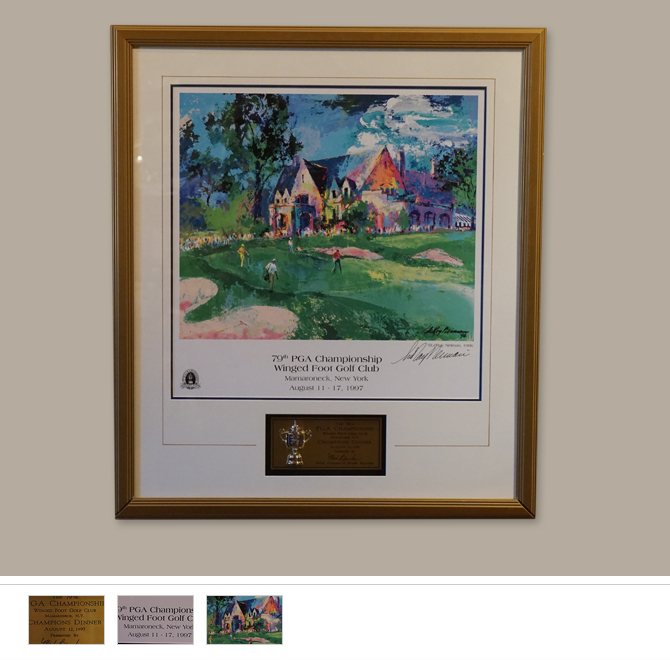 1997 PGA Champions Dinner Gift
A tradition at the PGA Championship is the PGA Champions Dinner. The menu is selected by the defending champion and he also presents all previous champions with a gift. Mark Brooks, winner of the 1996 PGA Championship, gifted each past PGA Champion with this striking LeRoy Neiman print Winged Foot, which hosted the 1997 PGA Championship at the 1997 Champions Dinner.
LeRoy Neiman (1921 - 2012), was an American artist known for his brilliantly colored, expressionist paintings and screen prints of athletes, musicians, and sporting events. Neiman worked in oil, enamel, watercolor, pencil drawings, pastels, serigraphy and some lithographs and etching. Neiman is listed in Art Collector's Almanac, Who's Who in the East, Who's Who in American Art, Who's Who in America, Who's Who in the World. He was a member of the Chicago Society of Artists. His works have been displayed in museums, sold at auctions, and displayed in galleries and online distributors. He is considered by many to be the first major sports artist in the world, challenged only in his later years by a new generation of artists like Stephen Holland and Richard T. Slone. His work is in the permanent collection of the Smithsonian, the Whitney Museum, the Brooklyn Museum, the Museum of Fine Arts in Boston, the State Hermitage Museum in Russia, Wadham College at Oxford and in museums and art galleries the world over, as well as in private and corporate collections.
Framed Dimensions:  27 1/2" x 32"
Item: ASA567