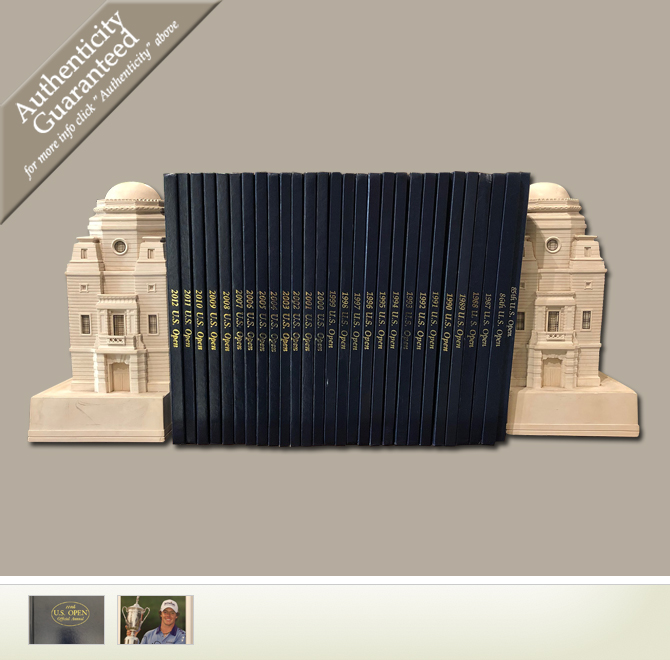 Completet Set of U.S. Open Annuals (1985 - 2012) Signed by U.S. Open Champions
Each hardcover book of this complete set of official U.S. Open (1985 - 2012) has been signed by that year's U.S. Open Champion with the exception of the 2008 annual which is included but unsigned. In addition each annual contains photos and detailed reviews for each day of the U.S. Open tournament as well as course layout and descriptions.
Signatures include: Andy North (1985); Raymond Floyd (1986); Scott Simpson (1987); Curtis Strange (1988 & 1989); Hale Irwin (1990); Payne Stewart (1991 & 1999); Tom Kite (1992); Lee Janzen (1993 & 1998); Ernie Els (1994 & 1997); Corey Pavin (1995); Steve Jones (1996); Tiger Woods (2000 & 2002); Retief Goosen (2001 & 2004), Jim Furyk (2003); Michael Campbell (2005); Geoff Ogilvy (2006); Ángel Cabrera (2007); Lucas Glover (2009); Graeme McDowell (2010); Rory McIlroy (2011) & Webb Simpson (2012).
From the foreword of the 1985 U.S. Open Annual: It is my pleasure to introduce the first in a proposed series of annuals on the United States Open Championship. My friends at Rolex are donating the proceeds from sales through the USGA Associates Program to benefit junior golf.
In addition to supporting this worthwhile project, this annual will provide a lasting record in text and photography of one of the world's greatest sports championships and the largest open competition in golf.
As I reflect on thirty one United States Opens as a competitor, my wish is that the USGA and Rolex had launched this series many years ago but you can be certain there will be a prominent place for this annual on my bookshelf.
~Arnold Palmer
All books are in good condition and will prove invaluable for any one who is a fan of this historic tournament!
Bookends not included.
Item: B241