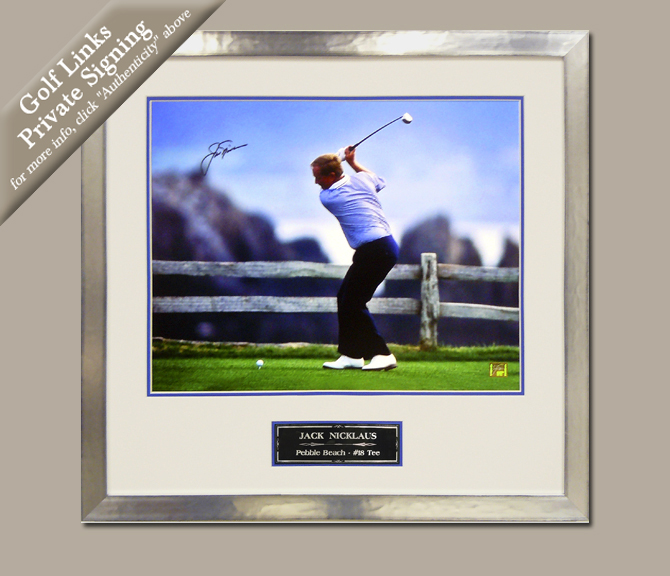 Nicklaus, Jack - Autographed Photo
Founded in 1937 by entertainer Bing Crosby the Crosby Pro-Am was almost as much a friendly gathering as a tournament. Over the years, the tournament was nicknamed "the Crosby Clambake." The first tournament was only one round in duration; it went to two rounds from 1938-1942; then to three rounds in 1947; and four rounds in 1958. The Crosby name was dropped after the 1985 event, and AT&T Corporation became the title sponsor in 1986. It is the most popular pro-am involving celebrities in the tour's history. The tournament is played over three courses in Pebble Beach, CA., with the final round always at Pebble Beach Golf Links.
Jack Nicklaus was a back-to-back champion when he won the tournament in 1972 & 1973. Nicklaus is shown here at the 1993 Pro-Am on the 18th.
This 16"x20" photo has been boldly signed by Nicklaus.
Framed Dimensions: 27.5" x 26.5"
Golf Links to the Past is proud to guarantee the authenticity of every autograph we sell. We provide appropriate documentation from official licensees who have commissioned private signings, and we employ the services of the two leading independent autograph authenticating companies, James Spence Authentication (JSA) and/or PSA/DNA, to authenticate all other autographs.
"I often rely on the extensive autograph exemplar file of Golf Links to the Past. Without reservation, I would recommend their services." (James Spence).
Item: FPNTS