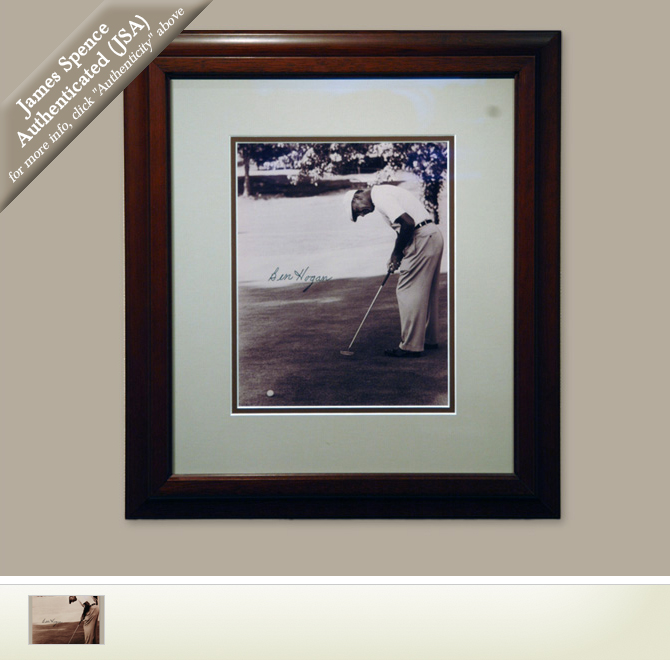 Hogan, Ben - Autographed Photo by Jules Alexander
Ben Hogan at the 1959 U.S. Open at Winged Foot, captured by Jules Alexander.
Jules Alexander began taking photographs at the age of 12 and by the age of 15 was photographing jazz musicians Benny Goodman, Frank Sinatra and Duke Ellington for Down Beat magazine. At the age of 18 Jules enlisted in the Navy and was an aerial reconnaissance photographer during World War II in the South Pacific. After the war he returned to New York to become a top advertising and fashion photographer. It wasn't until 1959 and a self-assignment with golfing great, Ben Hogan that Jules began his work in golf. Since then he has photographed hundreds of golf courses world-wide and covered hundreds of professional and amateur tournaments. His work is on display at the World Golf Hall of Fame and Golf House and can be found in golf clubs and homes throughout the world. Most notably Jules' Ben Hogan photographs are featured in the book "The Hogan Mystique" published in 1994.
This 8"x10" photo has been boldly signed by Ben Hogan.
Framed Dimensions: 18" x 16"
Golf Links to the Past is proud to guarantee the authenticity of every autograph we sell. We provide appropriate documentation from official licensees who have commissioned private signings, and we employ the services of the two leading independent autograph authenticating companies, James Spence Authentication (JSA) and/or PSA/DNA, to authenticate all other autographs.
"I often rely on the extensive autograph exemplar file of Golf Links to the Past. Without reservation, I would recommend their services." (James Spence).
Item: ASD455C