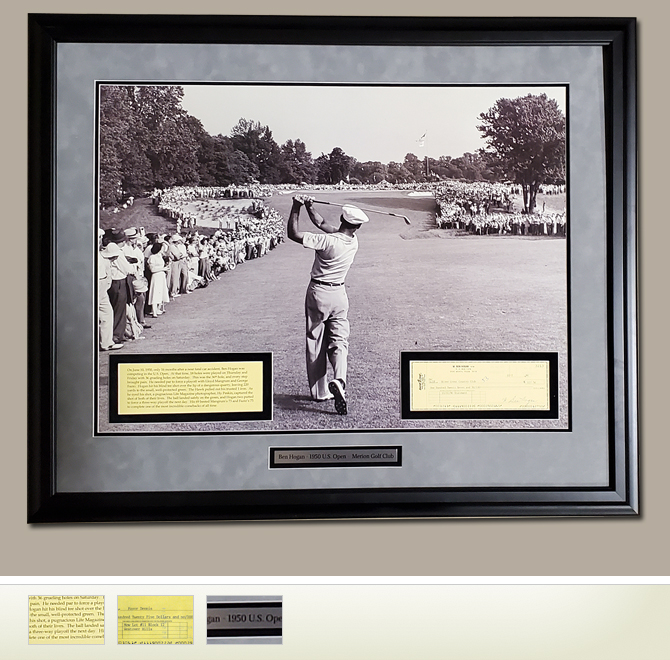 Hogan, Ben Autographed 1-Iron at Merion
On June 10, 1950, only 16 months after a near fatal car accident, Ben Hogan was competing in the U.S. Open at Merion Golf Club. At that time, 18 holes were played on Thursday and Friday with 36 grueling holes on Saturday. This was the 36th hole, and every step brought pain. He needed par to force a playoff with Lloyd Mangrum and George Fazio. Hogan hit his blind tee shot over the lip of a dangerous quarry, leaving 220 yards to the small, well-protected green. The Hawk pulled out his trusted 1 iron. As he eyed his shot, a pugnacious Life Magazine photographer, Hy Peskin, captured the shot of both of their lives. The ball landed safely on the green, and Hogan two putted to force a three-way playoff the next day. His 69 bested Mangrum's 73 and Fazio's 75 to complete one of the most incredible comebacks of all time.
This moment in golf history is presented with an original signed check from Mr. Hogan's personal bank account in Fort Worth, Texas. Only a limited number of these one-of-kind pieces will be created and due to their unique nature, no two checks will be the same. Dont' delay-order yours today!
Please Note - the check color will either be yellow or green.
Frame Size: 30" x 36"
Item: ASBHSC