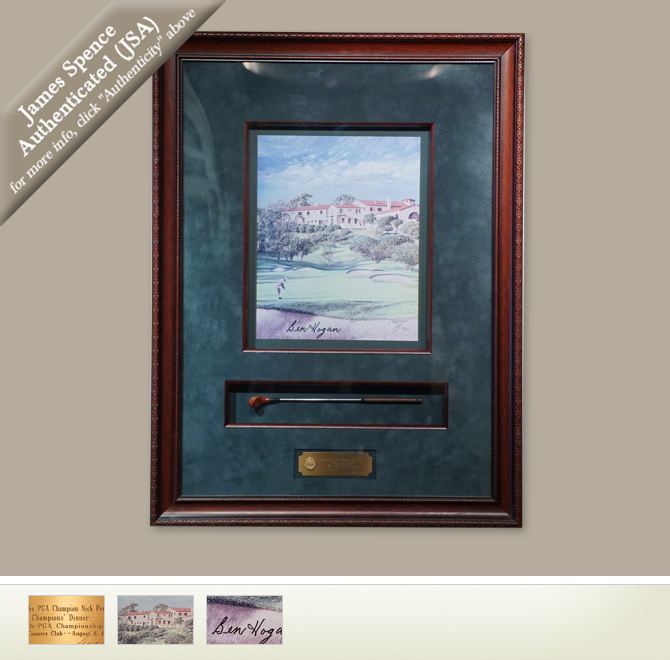 Hogan, Ben - Autographed Riviera Country Club LE Artwork
A tradition at the PGA Championship is the PGA Champions Dinner. The menu is selected by the defending champion and he also presents all previous champions with a gift. In 1994 Nick Price turned in one of the most dominating performances of any major championship shattering a 30-year-old PGA record for low aggregate score when he posted 269 for 11 under par and a six stroke victory. Price, who won the British Open a month earlier, became the first player since Walter Hagen in 1924 to win back-to-back British Open and PGA Championships titles. With the 1995 PGA Championship returning to Riviera Country Club the combined team of the PGA & Price decided that the perfect gift for the Champions' Dinner that year would pay tribute to two-time PGA champ (1946 & '48) Ben Hogan. It was only fitting with Riviera being the site of Hogan's 1948 U.S. Open win, two Los Angeles Open titles, while also the site of his heroic return from a near fatal car accident formulating the nickname which Riviera now carried as "Hogan's Alley".
This detailed crafted work, thought by many to be the quintessential gift ever presented at the Champions dinner came together in several parts. First was the artwork of noted California artist James Fitzpatrick painting an image of Hogan in action on the 9th hole at Riviera. With a follow-up limited edition of 60 lithographs being pressed and signed in pencil by the artist. Fitzpatrick in consultation with Price about his proposed artwork had this to say about his choice of the 9th hole over the more traditional 18th at Riviera, "#9 is a more picturesque hole with the trees framing the scene and the spectacular fairway bunker in the foreground. Add Hogan, and you've got a winner". The second feature of this gift is a miniature club which has been shadow boxed. With this work coming from the hand of England's John Davies, an acclaimed multi-generation club maker. This would all seem to be very spectacular, a herculean task. Now the real challenge and the coup de grace of the project. Getting an aging Ben Hogan to sign the pieces. The first inquiry was met with, a No! Then through the efforts of Bob Masley, a former employee of Hogan's, in roads were made with Valerie Hogan. The pieces would be autographed, but in 1995 signing had become a daunting task for Ben. This became such an issue that he could only sign a few of these prints each day. It became a labor of love for Hogan signing these gifts for his fellow PGA Championship winners. He completed the signings. The pieces were framed with an identifying plaque at bottom of this spectacular display bearing the logo of the PGA and stating "Presented by PGA Champion Nick Price Champions' Dinner 77th PGA Championship Riviera Country Club - - August 8, 1995" with etched signature from Nick Price which follows. What a significant, rare and highly desirable addition to your collection!
Framed Dimensions:  27" x 20"
Golf Links to the Past is proud to guarantee the authenticity of every autograph we sell. We provide appropriate documentation from official licensees who have commissioned private signings, and we employ the services of the two leading independent autograph authenticating companies, James Spence Authentication (JSA) and/or PSA/DNA, to authenticate all other autographs.
"I often rely on the extensive autograph exemplar file of Golf Links to the Past. Without reservation, I would recommend their services." (James Spence)
Item: A580