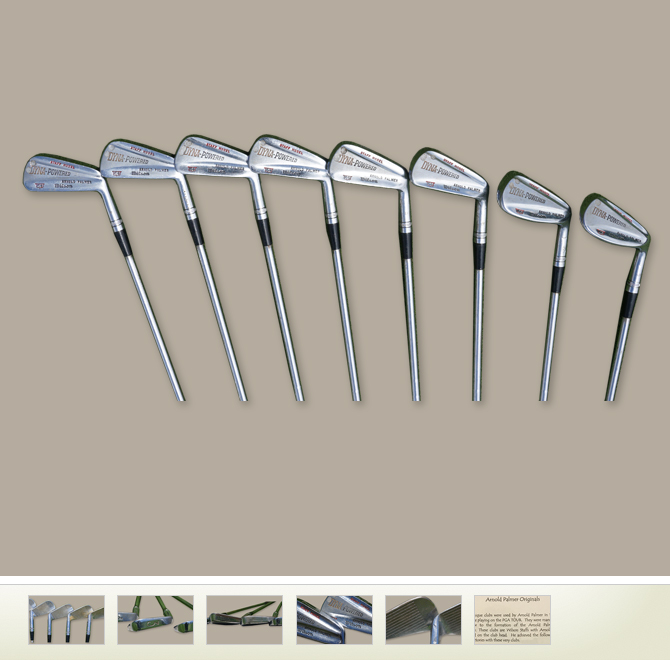 Arnold Palmer's Wilson Irons from PGA Tour 1960-1961
These unique clubs were used by Arnold Palmer in 1960 and 1961 while playing on the PGA Tour. They were manufactured just prior to the formation of the Arnold Palmer Golf Co. These clubs are Wilson staffs with Arnold's name imprinted on the club head. Mr. Palmer achieved the following PGA Tour victories with these very clubs:
1960
-Palm Springs Desert Golf Classic
-Texas Open Invitational
-Baton Rouge Open Invitational
-Pensacola Open Invitational
-Masters Tournament
-U.S. Open Championship
-Insurance City Open Invitational
-Mobile Sertoma Open Invitational

1961
-San Diego Open Invitational
-Phoenix Open Invitational
-Baton Rouge Open Invitational
-Texas Open Invitational
-Western Open
-British Open Championship
These clubs are from the personal collection of Joe Black, past Chairman of the PGA Championship and author of A Few Good Golf Stories in which he recollects how he came into possession of the clubs.
We played the Dallas Open at Oak Cliff where I was a member. If you know Arnold Palmer, you know he always fiddled with his clubs. He did everything in the world with his golf clubs. He would rewind the grips during the practice rounds and be in the bag room beating on them with a hammer. He went into the bag room at Oak Cliff to tinker with his clubs and he saw my clubs in the bag room and started examining them. He couldn't keep his hands off of them. He came to me and said, "I've got to have your driver."
Arnold was with Wilson at that time and I was playing Wilson clubs. I had a driver that Joe Wolf, Wilson's tour representative, had made for me. He said "I've got to have it."
I said, "Arnold you can't have that driver."
Then he said, "I've got to have that driver."
Again I told him no. Then he said, "Let me use it this week."
So he used it that week and drove great with it. He was supposed to put it back in my bag at the end of the tournament. Well Arnold, Gary Player, and I were going to Chicago the next week to film a television match between Gary and Arnold. Then Arnold said, "Why don't you fly up there with me on Monday? Since the match isn't until Friday we can mess around and play golf and go out to Wilson."
I told him no, that I'd been gone from home all summer and I was going to stay home and would be in Chicago on Thursday. He said okay.
So I called him on Thursday when I got in and he said, "Hey you've got to come over here and see your driver."
I said, "What do you mean I have to see my driver?"
He said, "Well I brought it with me and I took it out to Wilson and, boy, it's really great now."
So I went over to his room and he had taken a wood rasp and rasped the toe right off my driver. He hooked everything so he did that to all his clubs. He had just destroyed my driver. I was really hot.
He went out the next day and drove it dreadfully. Then he tried to give it back to me. I said no, that he had ruined my driver and that he owed me. He asked me what I wanted and I said that I wanted his back up putter. He had that famous putter that he made by welding a flange on the back of a Tommy Armour putter. He had two of them. He refused, saying he would be in trouble if he lost his putter.
We went to Seattle from there and every time I saw him I asked him about my putter. Next we went to Portland for his last tournament, and every time I saw him I asked, "Arnie where is my putter?"
At the end of the tournament I was standing near the scoreboard when he finished and he came over to me and said, "Come out here."
I walked out into the parking lot and he pulled his irons out of his bag and handed them to me and said, "I don't want to hear another damn word from you about my putter."
These irons were the ones he used to win fourteen tournaments including the Masters, the British Open and the Open -- tournaments that enabled Arnold to set the all time money record of that time.
I still have them.
Well now Golf Links to the Past has them and this amazing piece of golf history can be yours! Arnold Palmer has signed the Tournament List document. Pricing available upon request ~ please call 800.449.4097
Item: JBWIAP
Price: POR