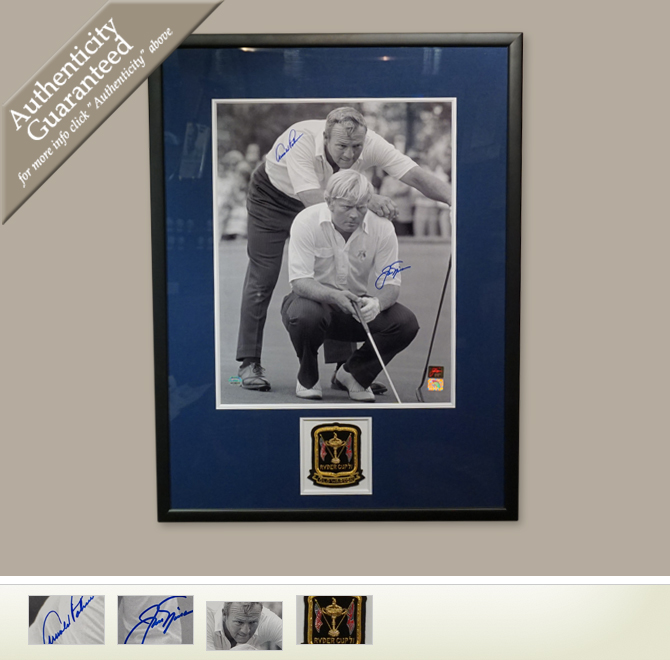 Nicklaus, Jack & Arnold Palmer 1971 Ryder Cup
The dream pairing of Jack Nicklaus and Arnold Palmer did not disappoint the large crowd that followed the most anticipated pairing in Ryder Cup history. They completed the first nine holes in an amazing 30 strokes but found themselves down to the unsung pair of Peter Townsend and Harry Bannerman, who had more than matched the two American legends all the way in one of the best matches in the annals of Ryder Cup competition. Against mere mortals, six British birdies in the first seven holes should have been worth at least a four-hole lead — but Nicklaus and Palmer were not mere mortals. Credited with a 66 off his own ball, Nicklaus proved the match winner as he chipped off the rough to within a few inches on the fourteenth to level the match, then drained a sixteen-footer on the last for his birdie and the win. Although the British team had gone round in 65, Nicklaus and Palmer answered with a 64 to win 1-up — culminating one of the greatest matches in Ryder Cup four-ball history.
The U.S. retained the cup 18 ½ to 13 ½ -- with Nicklaus going 5 and 1, while Palmer went 4 and 2, combining to have a hand in capturing nearly half (9) of the team's total points. This 16x20 photo captures the two legends during their historic four-ball match – their first pairing as Ryder Cup teammates.
Boldly signed by Jack Nicklaus and Arnold Palmer and featuring a 1971 Ryder Cup patch with a handsome deep blue mat, this is a beautiful piece of golf history.
Framed Dimensions: 31 ½" x 23 ¾"
Item: ASD610