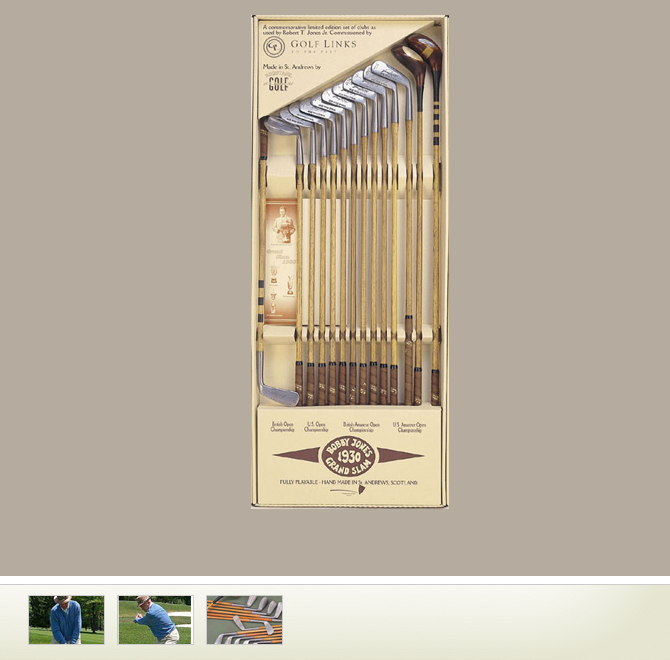 Jones, Bobby - Clubs - Grand Slam Replica
Every golf aficionado's dream-of-a-lifetime — a National Champion's tools-of-the-trade. These exquisitely forged hickory-shafted clubs are a complete reproduction of the clubs Bobby Jones actually carried during his remarkable 1930 "Grand Slam." Handcrafted in St Andrews, Scotland, each set of fourteen clubs is fully playable, individually numbered and accompanied by a letter of authenticity. To learn more about Bobby Jones' Grand Slam year we have included a booklet, which also features information on the whereabouts of the original clubs. Each set is one of only 1,930 available.
The 14 club set includes: Driver, 3-Wood, Driving Iron, Iron (1), Mid-Iron (2), Mashie-Iron (3), Iron (4), Mashie (5), Spade-Mashie (6), Mashie-Niblick (7), Niblick (8), Cleek Iron, Concave-Sand Wedge and Jones' famous putter (Calamity Jane). Enjoy this fine collection and feel history in your hands.
To complete your set, we offer two additional persimmon fairway woods: a Brassie and Long Spoon (an additional $1500 plus shipping & handling) — both carried by Bobby Jones in 1930.
Buzz about the Bobby Jones Clubs:
Legendary golfer Sam Snead is shown test driving the Bobby Jones reproduction clubs at The Homestead.
Clubs used throughout the movie: Bobby Jones - Stroke of Genius. All clubs used in the filming of the movie were from three limited edition sets supplied to the producers of the film. In the movie, you can see first hand the clubs being played by actor Jim Caviezal in his role of Bobby Jones.
Reviews in USA Today, PGA.com, & the Milwaukee Channel.
Item: 41001