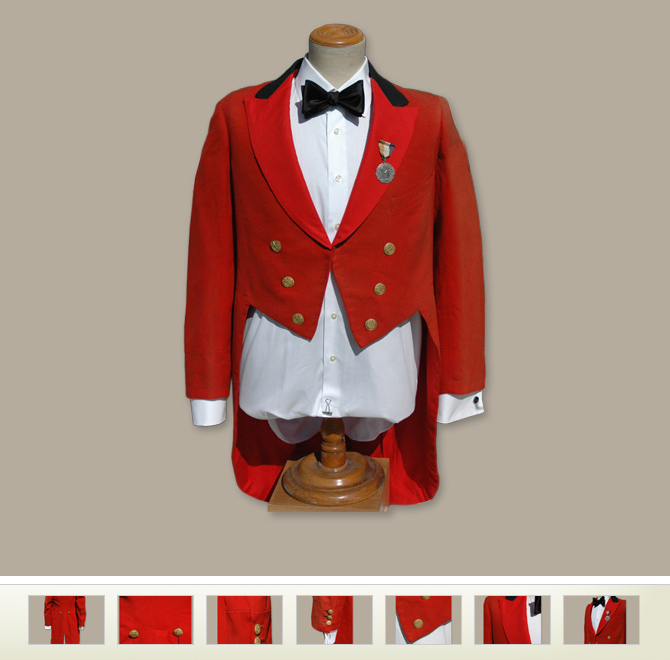 Wallasey Golf Club Captain's Coat
Old Tom Morris is reported to have said quite reverently and appropriately, that "there were certain golf courses obviously made by the Creator, and others equally made by man. There can be no doubt as to the class to which Wallasey belongs." The original pioneers, must have been men of vision to have pictured from the wilderness of scrub and drifting sand the dramatic course that was eventually constructed.
Just two weeks after these pioneers met to explore the possibility of forming a links course Old Tom Morris who had been employed to carry out a survey, reported to a meeting that…"at Wallasey there are all the conditions at hand to form a first class links". Tom Morris was authorized to lay out a course of length 5,175 yards. Less than four months after the first General Meeting the links were open for play for the then 212 members.
Little of the 1891 course remains intact. Gales, blown sand, War Office requirements and the desire for extra length have led to several reconstructions. Only four of the original greens have stood the test of time and are incorporated in the present layout: 'Stableford' (2nd), 'Lane' (7th), 'Hummocks' (8th) and 'Old Glory' (12th). Several architects have been used over the years, most notable Harold Hilton (four times Amateur champion and twice Open champion) and James Braid (five times Open champion).
The Stableford scoring system was devised by Dr Frank Stableford, a member of and Club Captain (1936) Wallasey. The first Stableford competition was played at Wallasey on 16th May 1932.
Visitors to the club will be able to see the famous painting of Bobby Jones,(see item LBJR) by artist and Wallasey member J.A.A.Berrie, RA. Jones sat for the painting during his 'Grand Slam' year of 1930, when the Open was held at nearby Hoylake with qualifying at Wallasey.
This handsome captain's coat from Wallasey Golf Club has been completely re-lined and all seams checked for soundness. The coat has the original brass buttons with the Wallasey club initials and is made of red wool garberdine. The tag inside the jacket reads: "Custom Made by John Bell Liverpool, Ltd."
The Simpson-Gallett medal shown has been sold.
Item: M820