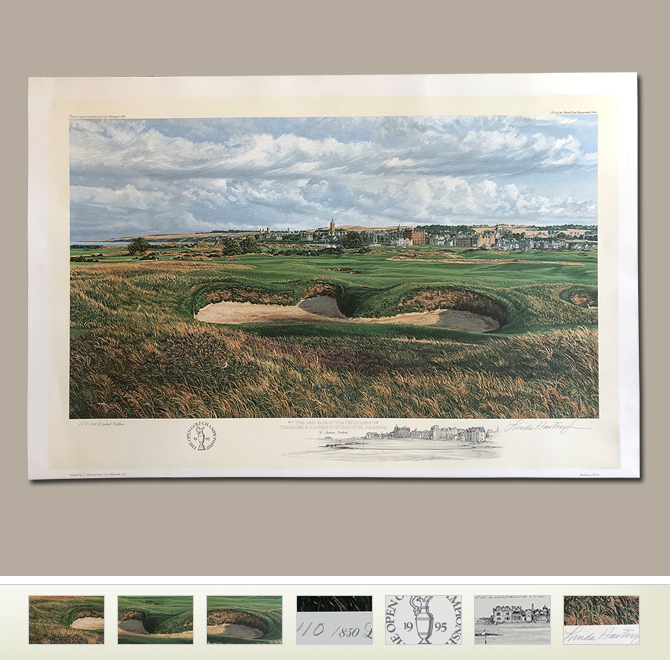 Hartough, Linda - St Andrews 14th Hole
The Old Course at St Andrews is considered the oldest golf course in the world and commonly known as 'The Home of Golf'. It is a public course over common land in St Andrews, Fife, Scotland and is held in trust by The St Andrews Links Trust under an act of Parliament. The Royal and Ancient Golf Club of St Andrews club house sits adjacent to the first tee, although it is but one of many clubs (St Andrews Golf Club, New Golf Club, St Regulus Golf Club and St Rules Golf Club are the others) that have playing privileges on the course, along with the general public.
The Old Course has 112 bunkers which are all individually named and have their own unique story and history behind them. The two most famous are the 10 ft deep "Hell Bunker" on the 14th hole, and the "Road Bunker" on the 17th hole. Countless professional golfers have seen their dreams of winning the Open Championship squandered by hitting their balls into those bunkers.
Golf artist, Linda Hartough has painted this beautiful picture of the 14th hole at St. Andrews Golf Course as part of her British Open Series. Linda is recognized as one of golf's leading artists, because of her extraordinary and realistic attention to detail. Linda's approach to capturing a great golf hole is by spending a week or more at each course, taking photographs at different times of the day to capture all possible lights. She then figures out what is important or memorable in each view.
This unframed limited edition - #110/850 - print has been signed by the artist Linda Hartough.
Unframed Print Dimensions: 29" x 19"
Item: A338