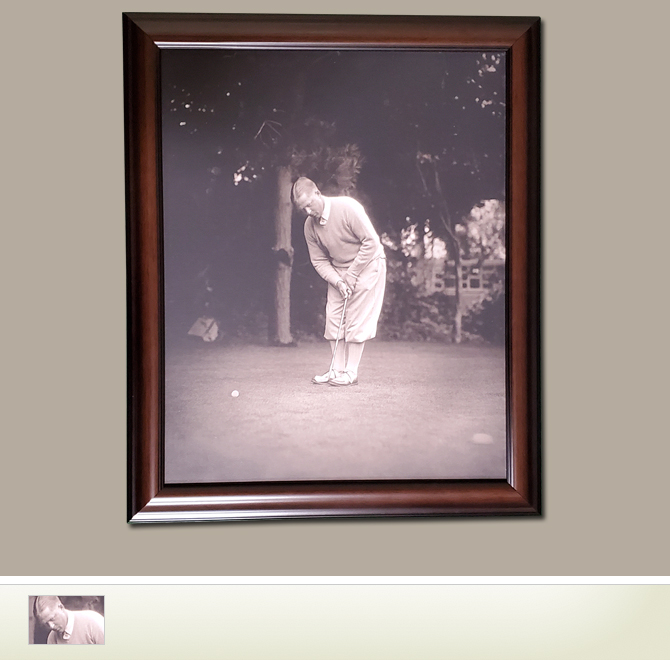 Jones, Bobby - 1929 US Amateur
When Bobby Jones came to Pebble Beach Golf Links for the 1929 U.S. Amateur, he was trying to become the first person to win three straight Amateur championships. As the greatest amateur of the day legions of fans expected no less. Johnny Goodman, a young amateur from Omaha, Nebraska, did not share in this expectation and quickly found himself two up on Jones in the middle of the first round of match play. The two battled throughout the day with Goodman the unlikely one-up leader when they come to the 18th. The pair halved the hole, and then the mighty Robert Tyre Jones found himself knocked out of contention in the first round.
O.B. Keeler (an Atlanta newspaper man and close personal friend of Jones) was to sum it up this way: "It is perhaps a deplorable thing to recount, but it must be said as a conscientious reporter must say things at times, that while Omaha doubtless regards Johnny Goodman as a prime hero, California considers him a painful accident that came over two thousand miles to happen. Nobody assumed Mr. Goodman had suddenly blossomed into the greatest golfer, rather the general feeling was that it was a type of misfortune, like breaking a leg or running into a lamppost."
This handsomely framed giclee canvas shows Bobby Jones on the practice green at Pebble Beach for the 1929 U.S. Amateur.
Framed Dimensions: 18.75" x 22.75"
Item: ASP179