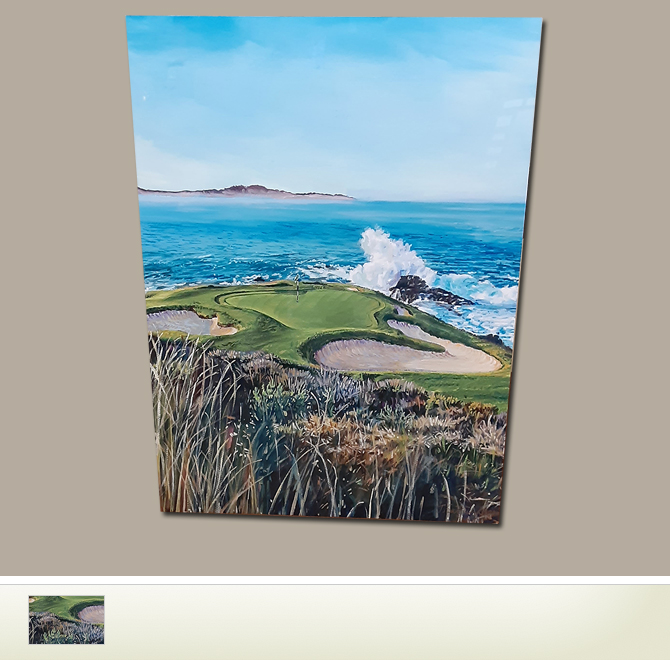 Satterly, Jennipher - Pebble Beach 7th Printed on Aluminium
Situated along a breath-taking stretch of Pacific Coast, Pebble Beach's #7 is one of the game's iconic holes and as wicked as it is beautiful.
Jennipher Satterly is an American representational painter specializing in golf landscapes. For almost three decades, her work has been uniquely defined by a mark making technique that falls nothing short of magic, brought to life by her longstanding love affair with the act of painting itself. Her work is lauded for capturing moments of light, as she strives to recognize the visual merits in the beauty and splendor of golf's greatest places. She earned her Master of Fine Art degree from The Glasgow School of Art in Scotland and her Bachelor of Fine Art from Purchase College in New York. Her work has been exhibited internationally including the Royal Scottish Academy in Edinburgh, Scotland. A selection of her commissioned work is in the archive collections of Mount Vernon and the White House.
She is a fine art licensee for the Pebble Beach Company, a proud member of the United States Golf Association and a benefactor member of the Golf Heritage Society. Jennipher is on the Advisory Council of the New Jersey Golf Foundation, member of Women in the Golf Industry, Women's Metropolitan Golf Association, and the Academy of Golf Art. She lives in Northern New Jersey, with her husband and two sons.
Framed Dimensions: 18" x 24"
Item: JS109