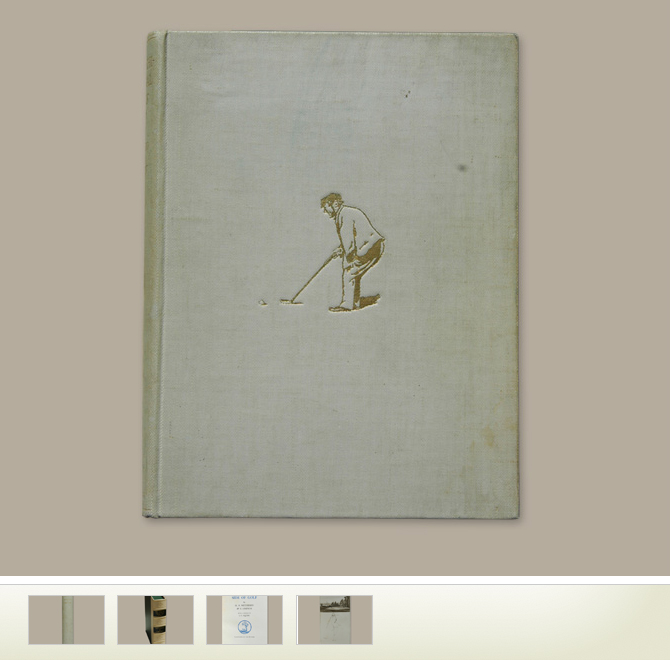 The Architectural Side of Golf - Wethered & Simpson
by H.N. Wethered & T. Simpson. Published by Longmans, London, 1929, 1st edition in near mint condition, 44 plates in color and black & white.
H.N. Wethered was the father of two famous amateur golfers: Joyce Wethered and Roger Wethered. Tom Simpson was a golf course architect who has three courses in the top 100 rankings to his credit: he designed Cruden Bay in Scotland, Morfontaine in France and redesigned Ballybuion in Ireland.
This book talks about various design philosophies and includes chapters on Hazards and Putting Greens. An important historic work on golf architecture, contains many illustrations done by the authors. List of illustrations. I, The Four Ages. II, Attack and Defense. III, Fairways. IV, Putting Greens. V, The Ideal Golf Course. VI, General Principles, Constructions and Upkeep. VII, Hazards. VIII, Going North. IX, The Philosopher and the Poet. X, Critics and Superstitions. XI, Two Hundreds Years Ago. XII, Going South. XIII, A Game of Confidence. XIV, East Lothian. XV, Caddies We Have Met. XVI, The Lost Chord. XVII, In an English Garden. XVIII, The Last Green.
Housed in an extremely handsome custom made quarter-calf clam shell box with raised bands.
Item: ASB227