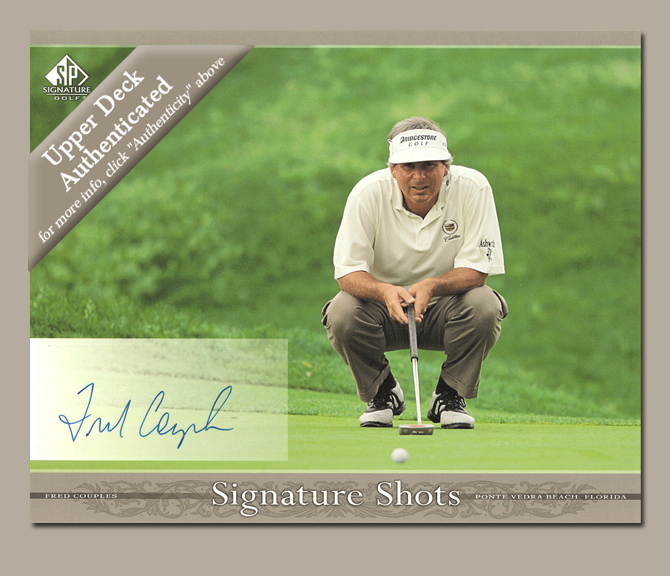 Couples, Fred - Autographed 8x10 Trading Card
Regular Price $50
A Savings of 50%!
Born: October 3, 1959 in Seattle, WA.

The 1992 Masters was won by Fred Couples, arguably one of the most popular Masters champions ever. Couples played well all week, and as the final round made the turn, it became clear that this tournament would come down to two men, Fred Couples and Ray Floyd. So many Masters have been won or lost on "Amen Corner", the 3-hole stretch of 11, 12 and 13, none more amazingly than the 1992 Masters.
Lurking close to the front of the 12th green, Rae's Creek waits; a shot hit short is supposed to roll back into her embrace. Tempting fate, Couples hit a shot that rolled the wrong way. Somehow, some way, his ball rolled halfway down the bank and stopped, inexplicably clinging to the bank. As if by divine intervention, Couples saved his par, keeping hope alive. With this nod from the gods, Couples finished at 275, winner by 2 over Floyd.
In 2004 and 2005, the Upper Deck Company produced 8 x 10 autographed images on card stock. These pictures present themselves as glossy photographs. The Upper Deck Company commissioned private signings with these stars. The backs of each card expressly warrants the authenticity of the signature of the depicted golfer.
Item: P216