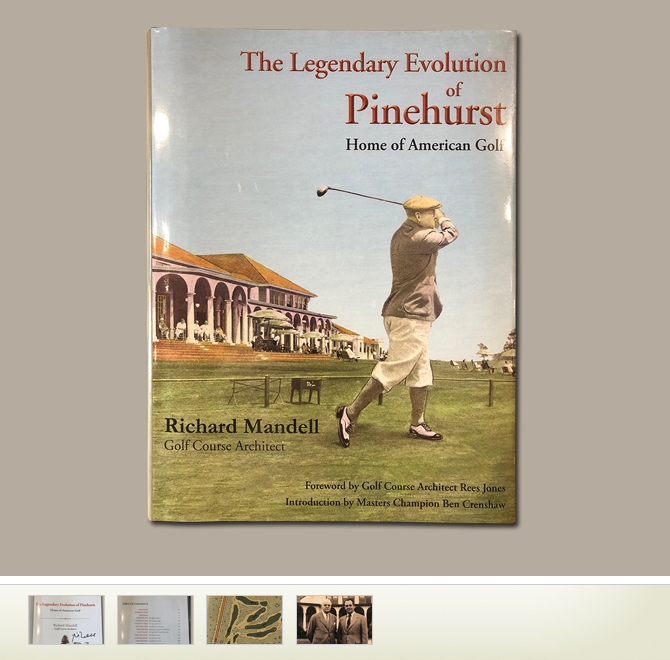 The Legendary Evolution of Pinehurst: Home of American Golf
Signed by Author, Hardcover
Today, Pinehurst stands at the pinnacle of a revolution in golf course design and development just as it found itself in that position in 1895. As the golf world adjusts to the new world economy, Pinehurst No. 2's recent transformation into a sustainable, yet exciting, playing experience finds itself as the prototype for the game of golf in the twenty-first century.It is a story of dumb luck, ingenuity, and grand visions... In anticipation of the 2014 Men's and Women's U. S. Opens to be played on the venerable Pinehurst No. 2 course comes the release of the definitive history of North Carolina Sandhills golf: The Legendary Evolution of Pinehurst, Home of American Golf. Written by veteran golf course architect Richard Mandell, it is a detailed account of the evolution of the golfing fields of the Sandhills of North Carolina and how it mirrored the growth, and directly affected, the game of golf in America a century ago to today.
The book is a completely re-designed and updated book of Richard's 2007 Award-winning tome on the history of Sandhills golf, Pinehurst ~ Home of American Golf (no longer in print and very difficult to find). The Legendary Evolution of Pinehurst, Home of American Golf has forty-five new pages with numerous updates, including a brand new chapter chronicling the restorations of Pinehurst No. 2 and Mid Pines, the development of The Dormie Club and other advances in the recent past. This is a must have for those who love Pinehurst and the history of golf courses. In addition to the new text are 112 never before seen new images as well as an introduction from two-time Masters Champion, Ben Crenshaw. The Legendary Evolution of Pinehurst, Home of American Golf is the untold story of one of the three most popular golfing destinations in the world. This 424 - page, four-color history is more than just a coffee table book. Few authors have written books about Pinehurst. None of those writers has ever completed such a detailed review of an iconic landmark of the game of golf in the United States.The Legendary Evolution of Pinehurst, Home of American Golf reveals design, construction, and maintenance trends throughout the history of golf development.
The book provides insight into the ingenuity and creativity of design and construction techniques of the past and how they relate to decisions made today. Articles from newspapers of the times will reveal the public's exposure to trends of the design industry whose details are not explored in most books written about golf architecture today. Reprinted letters from the major players (Donald Ross, Albert Tillinghast, Tufts family members, Herb Graffis, etc.) give the reader a "fly on the wall" understanding of day to day operations and challenges.The design evolution of Sandhills golf courses is documented from pre-design site decisions to renovation projects throughout their history, to how these events have defined each golf course as it lays today. The reader will hear directly from each architect about design choices and challenges as well as construction tales which make each golf course's history different.Inside these pages is the story of The Pinehurst Resort, Pine Needles, Mid Pines Golf Club, Southern Pines Country Club, The Country Club of North Carolina, Tobacco Road, Dormie Club, and countless other courses of the Sandhills. Rare, never-before-seen photographs of the early days of Sandhills golf include construction scenes as well as the only known construction drawings of Pinehurst No. 2, one of the most famous golf courses in the world. Another feature of The Legendary Evolution of Pinehurst, Home of American Golf is Mr. Mandell's seventeen detailed overlays of historic golf course routings of Pinehurst on top of an aerial photograph from today, allowing the reader access to history only an archaeologist can uncover. The reader can clearly see where features of the past would be located in the present day. The book also includes three prints of Pinehurst No. 2's recent transformation from acclaimed artist, Mr. Michael Miller.The Legendary Evolution of Pinehurst, Home of American Golf is the definitive encyclopedia of Sandhills golf course history. It is written from Richard's perspective as one of the few practicing golf course architects to have ever based his business in Pinehurst. Richard Mandell is a direct professional descendant of Donald Ross through his apprenticeship under Dan Maples, who apprenticed under his Father, Ellis Maples. Ellis was under the direct tutelage of Donald Ross himself.
Richard Mandell is a practicing golf course architect who has worked on more than fifty golf course projects (new and renovations) in his twenty-three-year career, including golf course restoration work on seven Donald Ross golf courses. He first moved to Pinehurst after graduating from The University of Georgia to work for golf architect Dan Maples. Upon returning to Pinehurst in 2000, Richard began his own golf course design firm, Richard Mandell Golf Architecture. Richard's work can be found in twelve states and China and has won awards spanning three different decades. In 2011, Richard was named one of the Fifteen Most Influential Golf Architects by GolfInc. Magazine. He is the creator of the Symposium on Affordable Golf, which is an annual conference focusing on the challenges of the golf business. He has written numerous articles on golf architecture for magazines such as Golf Illustrated, Golf Course Architecture Magazine, Golf Digest India, and Links Magazine and has contributed chapters to three books on the subject: Volumes I and II of Golf Architecture (A Worldwide Perspective) and Favourite Holes By Design: The Architect's Choice. His 2007 book, Pinehurst ~ Home of American Golf (The Evolution of a Legend) won the 2008 International Network of Golf Book of the Year and was a finalist for the USGA Herbert Warren Wind Award as well as a ForeWord Magazine Sports Book Award 2007 Finalist.
Item: B1601